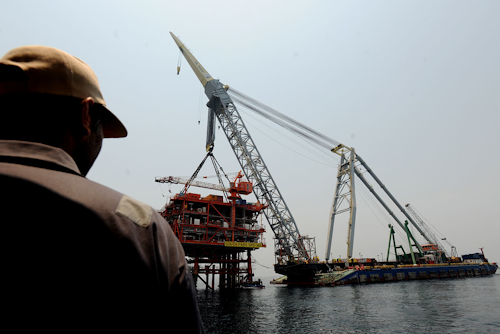 (Courtesy Shana)
Offshore staff
TEHRAN, Iran – National Iranian Oil Co. (NIOC) expects the third production platform at Phase 14 of the South Pars gas field in the Persian Gulf to become operational in September.
This follows the recent installation by the HL-5000 vessel and subsequent hookup.
According to news service Shana, the platform will eventually deliver 14.1 MMcm/d of gas with production due to start in December.
Currently Phase 14 is producing 28 MMcm/d. It is designed to recover a total of 56 MMcm/d of sour gas via 44 wells drilled from two main and two satellite platforms. The gas is sent through a pipeline to onshore treatment facilities.
Phase 14 was launched in 2010 and was originally due to be completed in 35 months, but due to the multiplicity of contractors involved, schedules slipped.
The final platform, 14D, is presently 93% complete at the Iran Marine Industrial Company Yard in Bushehr, and is expected to be installed at its offshore location by October.
08/12/2019