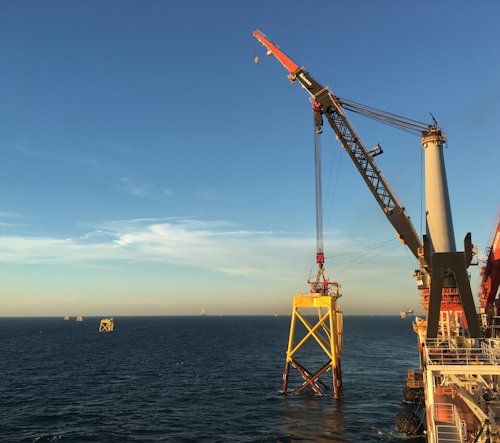 (Courtesy Heerema Marine Contractors)
Offshore staff
LEIDEN, the Netherlands – Ørsted has contracted Heerema Marine Contractors to transport and install 111 turbine foundations and two substations for the 900-MW Greater Changhua 1 and 2a offshore wind farms in Taiwan.
The company will also be responsible for onshore marshalling services as well as the seabed preparations and scour protection.
The heavy-lift vessel Aegir will carry out the installation in water depths of 30-35 m (98-115 ft) during 2021 and 2022.
The Greater Changhua offshore wind projects consist of four sites in the Taiwan Strait, from 35-60 km (22-37 mi) off the coast of Changhua County.
Ørsted has obtained site exclusivity on four offshore wind sites with a planned total generation capacity of 2.4 GW. In 2018, the company was awarded capacity for two projects of 900 MW and 920 MW.
08/09/2019