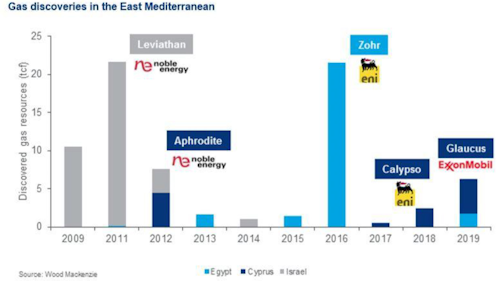 Wood Mackenzie
Offshore staff
LONDON – Exploration to date offshore southern Cyprus has proven around 11 tcf of recoverable gas, according to Wood Mackenzie.
Whether the discoveries can be commercialized remains to be seen, said Robert Morris, senior analyst: Caspian and Europe Upstream Oil and Gas.
Cyprus has no domestic gas market only limited potential for development, he pointed out, but there are options for exporting the gas.
One would be through Egypt's under-used liquefied natural gas (LNG) export infrastructure to the south. This would offer the lowest cost with the fastest time to market and potentially the best netbacks.
But Egypt's own recent offshore gas finds, including the giant deepwater Zohr field, mean that the LNG facilities are getting busier. This means the earliest for significant spare capacity for Cypriot gas could be 2025 – further if Egypt's run of successes continue.
Another option is a new LNG project. ExxonMobil and Qatar Petroleum, which recently proved 7 tcf in Cyprus' offshore Glaucus discovery, have signalled their intent to establish an onshore, greenfield LNG facility.
However, they would need another giant discovery to fuel a two-train LNG plant with 12-15 tcf of recoverable resources.
A third option could be floating LNG (FLNG), a smaller-scale solution that requires less gas than conventional onshore LNG projects.
The proposed EastMed pipeline, which could deliver 10 bcm annually from Cyprus and Israel to Greece, Italy and southeast Europe, is a further alternative. But it may not be competitive cost-wise with alternate sources of supply in southern Europe.
According to Morris, volumes at Eni's Calypso discovery and Glaucus need firming up through appraisal drilling to clarify the best way forward for commercialization. ExxonMobil and Eni will resume drilling next year.
The Noble Energy-operated Aphrodite field is appraised and better understood and in pole position to access Egyptian LNG facilities. But here too, progress depends on fiscal terms for the block 12 PSC being amended to suit a gas project.
Cyprus' territorial dispute with Turkey could also complicate future scenarios, as evidenced by the tensions that halted movement of a drillship last year following the Calypso discovery.
06/03/2019