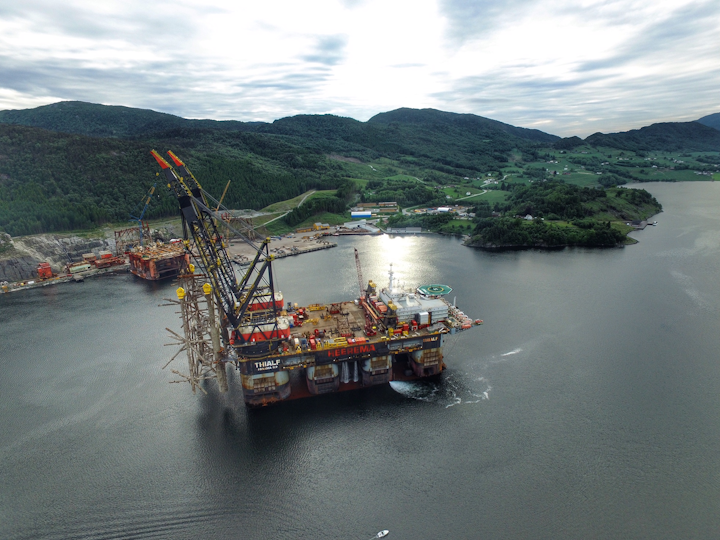 Fairfield Decom
Offshore staff
ABERDEEN, UK – Three experienced decommissioning companies have jointly formed Fairfield Decom.
The new venture, based in Aberdeen, between Decom Energy, Heerema Marine Contractors and AF Offshore Decom, will offer a full decommissioning life-cycle service to oil and gas asset owners, mainly on the UK continental shelf (UKCS).
Heerema transports, installs, and removes all types of offshore facilities, including fixed and floating structures in shallow, deep, and ultra-deepwaters. The company also has a long working relationship with AF Offshore Decom, collaborating on various North Sea decommissioning projects.
AF Offshore Decom, a subsidiary of Norway's AFGruppen, has developed solutions for the removal and recycling of offshore installations over the past 15 years.
Decom Energy claims to be the first fully outsourced end-to-end, late-life and decommissioning operator in the North Sea. Its subsidiary Fairfield Energy is working on decommissioning facilities serving the Greater Dunlin Area in the northern UK sector.
According to the company, the UKCS is the largest decommissioning market anywhere with projected expenditure of £15.3 billion ($19.6 billion) over the next decade.
Graeme Fergusson, managing director of Fairfield Decom, said: "We have built a strong business relationship with Heerema and AF Offshore Decom as contracting partners in the Dunlin topsides removal and as alliance partners for integrated decommissioning business opportunities.
"It became very clear that the three companies not only had unrivalled experience in decommissioning but that there was great alignment in terms of our approach to business and our values.
"Our operator background meant that we understood what the E&P community wanted - an integrated solution that was technically robust, commercially creative and that would deliver a safe, cost-effective and environmentally-sound solution."
Britain's Oil and Gas Authority is targeting a 35% reduction in UK offshore decommissioning costs by 2022 through a combination of performance improvement, cost control, technological innovation, and adoption of new business models.
Fairfield Decom claims to provide a step change in the decommissioning business model, with a focus on reducing complexity and the number of contractual arrangements.
Koos-Jan van Brouwershaven, Heerema CEO, said Fairfield Decom could provide "a smarter and more cost-effective approach to decommissioning and recycling offshore structures."
In addition, Fairfield Decom plans to draw on the services of the local supply chain in Scotland and aims to be at the forefront of a decommissioning hub in the country, with the potential to access a global decommissioning market estimated at more than $80 billion over the next 10 years.
The venture remains subject to the approval of the Norwegian Competition Authority.
05/16/2019