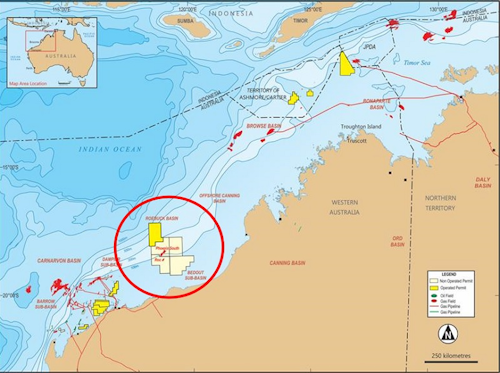 Offshore staff
WEST PERTH, Australia – Quadrant Energy has spudded the Phoenix South-3 appraisal well offshore Western Australia.
According to partnerCarnarvon Petroleum, the rig has completed the 'ready to operate' process and has finished drilling the 42-in. hole in preparation for running surface casing.
The 42-in. surface hole was drilled to around 240 m (787 ft) ahead of setting the 36-in. conductor, slightly deeper than Phoenix South-2 in order to accommodate heavier casing strings.
Following setting of this conductor, the rig will drill the 26-in. hole, and then set and cement the 20-in. casing. Operations should take around 10 days to complete.
The main goal of Phoenix South-3 well is to assess gas and condensate potential in the Caley Member within a large, faulted anticlinal closure that was partly penetrated by Phoenix South-2.
Although the latter well encountered gas and condensate it was unable to drill through and evaluate this formation. Phoenix South-3 well has been designed to address this issue.
The location is around 560 m (1,837 ft) north-northeast of Phoenix South-2. The well will target a closure that could contain up to 489 bcf of gas and 57 MMbbl of associated condensate.
Carnarvon also expects to encounter sandstones within the Hove Member that may be hydrocarbon-bearing. Drilling to TD of 5,500 m (18,044 ft) MD should take around 90 days - Quadrant's plan of staged drilling just above and through the Caley reservoir section will make progress here slower than through the other sections of the wellbore.
04/20/2018