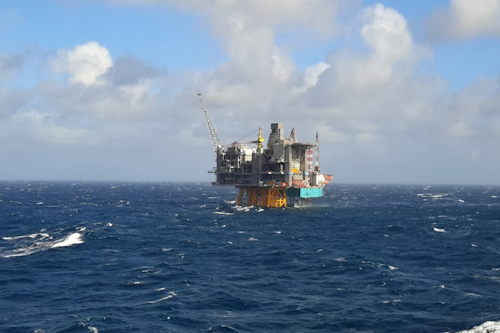 Offshore staff
STOCKHOLM, Sweden – Lundin Norway has completed its planned development drilling program at the Edvard Grieg field on the Utsira High in the Norwegian North Sea.
The field in license PL338 started production in late 2015. The jackupRowan Viking drilled 14 development wells under budget and is currently being demobilized.
Alex Schneiter, president and CEO of parent company Lundin Petroleum, said he expected ultimate recovery to increase by more than 300 MMboe, with tieback opportunities in the area (such asLuno II, Rolvsnes, and Lille Prinsen) offering the potential to double the volumes produced through the facilities, allowing them to operate at full capacity for many years.
Total gross production fromEdvard Grieg from first oil in November 2015 to the end of 1Q 2018 was 74 MMboe. Current gross production from Edvard Grieg is around 95 MMboe/d, reflecting the facilities capacity allocation within the (pipeline-linked) Ivar Aasen field, with an operating cost below $4/bbl.
Reservoir results from the development drilling exceeded the pre-drill expectations, with no material water production to date. Lundin now foresees a 47% higher overall recovery of reserves than in its original development plan.
As a result of the reserves upgrade the field production's plateau has been extended by two years to end-2019. An infill development drilling program planned for 2020 could further extend the plateau.
A 4D seismic survey over the field this year will refine the infill well targets. In addition, Lundin is maturing further prospects in the area for drilling in 2019.
Lundin Norway operates PL338 in partnership with OMV and Wintershall.
07/05/2018