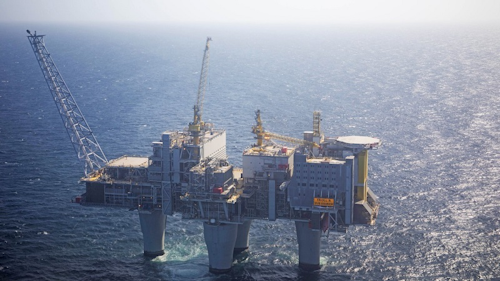 Offshore staff
STAVANGER, Norway– Norway's Ministry of Petroleum and Energy has approved the plan for development and operation (PDO) of the Equinor-operated Troll Phase 3 development. 
Troll Phase 3 covers development of gas in the western part of the Troll field, 60 km (37 mi) west of Sognefjorden in 330 m (1,082 ft) of water, and around 25 km (15.5 mi) northwest of the Troll A platform.
The subsea concept includes the construction and installation of two subsea templates, drilling of eight production wells, laying of a 36-in. pipeline, and installation of a new processing module on the Troll A platform. The facilities will be powered from shore.
Capex of NOK7.8 billion ($919 million) will help extend the productive life of the Troll field beyond 2050, Equinor said.
Torger Rød, Equinor's senior vice president for project management, said: "With a break-even of less than $10/bbl, Troll Phase 3 is one of the most profitable and resilient projects ever in our company. Thanks to the PDO approval Equinor and its partners can now deliver another 2.2 Bboe from the field with a CO2 intensity of 0.1 kilo per barrel."
Rød said that start-up is targeted for the first half of 2021.
The development of Troll Phase 3 is also important for Norwegian supply industry. About 70% of the value creation will take place in Norway.
The partnership has awarded contracts within marine installations and subsea facilities totaling an estimated NOK950 million ($112 million) to Nexans, DeepOcean, IKM, Allseas, and Marubeni. In addition, the partnership has awarded contracts worth approximately NOK2 billion ($236 million) for subsea facilities and the construction of a newprocessing module on the Troll A platform to Aker Solutions.
Troll partners are Equinor (30.58% - operator), Petoro (56%), Norske Shell (8.10%), Total E&P Norge (3.69%), and ConocoPhillips Skandinavia (1.62%).
Gunnar Nakken, Equinor's senior vice president for Operations West, said: "This adds a new chapter to the amazing Troll story. The field has an important part in our plans to transform the Norwegian continental shelf for sustainable value creation for several decades.
"Troll is the biggest gas producer on the NCS, meeting 7-8% of Europe's total daily gas consumption. We will deliver safe, profitable and carbon-efficient energy from Troll that helps reduce coal consumption and reduce CO2 emissions in Europe with a long-term perspective beyond 2050."
12/07/2018