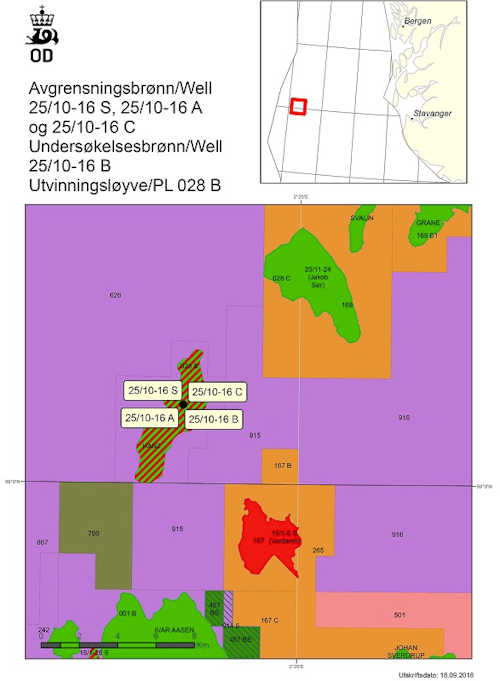 Offshore staff
OSLO, Norway – The jackup Maersk Intrepid has completed three appraisal wells for Aker BP on the Hanz oilfield in the central Norwegian North Sea, and a wildcat well to the southeast.
According to the Norwegian Petroleum Directorate (NPD), all were drilled around 14 km (8.7 mi) north of the Aker BP-operatedIvar Aasen field and 180 km (112 mi) northwest of Stavanger.
Hanz was proven in 1997 in upper Jurassic reservoir rocks within intra-Draupne formation sandstones.
The objective of the wells on the Hanz field was to delineate the field, investigate potential additional resources in underlying Middle Jurassic reservoir rocks (the Hugin formation), reduce the uncertainty about the extent of the reservoir sandstones and thus lower uncertainty for the field's estimated resources.
The primary exploration target for wildcat well 25/10-16 B was to prove petroleum in Upper Jurassic sandstones (the Intra-Draupne formation), while the secondary exploration target was to investigate the underlying Hugin formation. The prospect was partially situated in production license 915, just to the southeast of production license 028 B.
Two of the appraisal wells encountered hydrocarbons. Well 25/10-16 S penetrated a 30-m (98.4-ft) gas column and a similar length oil column in the Draupne formation, mainly with good reservoir quality, while well 25/10-16 A intersected a 15-m (49-ft) gas column in the Hugin formation.
The other wells were dry.
Aker BP's early estimates of Hanz's size remain within the range of uncertainty for the resource estimate prior to drilling of the wells. The field is included in the development plan for Ivar Aasen.
TheMaersk Intrepid will now drill development wells on the Martin Linge field in the North Sea for Equinor.
09/21/2018