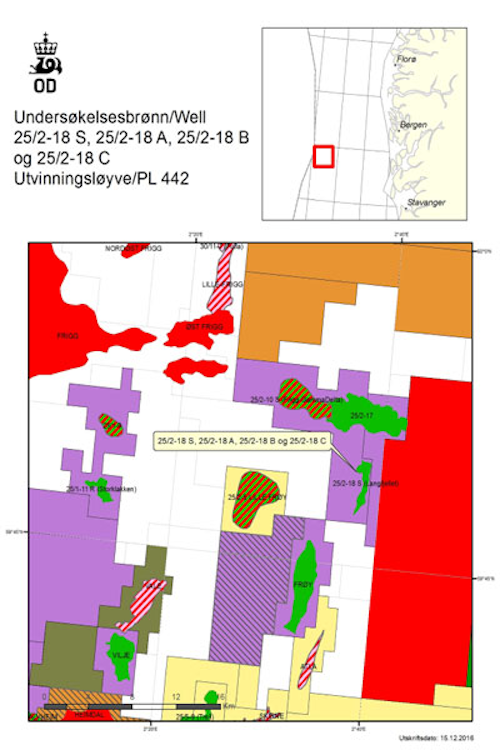 Offshore staff
OSLO, Norway – The jackup Maersk Interceptor has finished a program of one wildcat and three appraisal wells in the North Sea for operator Aker BP in production license 442.
The locations were 4 km (2.5 mi) south of the 25/2-10 S (Frigg Gamma Delta) oil/gas discovery and 8 km (4.97 mi) north of the decommissioned Frøy field.
According to the Norwegian Petroleum Directorate (NPD), exploratory well 25/2-18 S encountered two oil columns in the Mid-Jurassic Hugin formation, 30 and 86 m (98.4 and 282 ft) in total, both with around 20 m (65.6 ft) of sandstones of moderate to good reservoir quality.
Appraisal well 25/2-18 A, 1 km (0.6 mi) to the southeast, also intersected two oil columns in the Hugin formation.
Another appraisal well 1.4 km (0.86 mi) north of the discovery well was dry. However, well 25/2-18 C, 1 km to the west, encountered three oil columns in the Hugin formation and a 7-m (23-ft) condensate column.
NPD estimates recoverable volumes at 4-12 MMcmoe. The licensees are assessing the find and other nearby discoveries with a view toward potential development.
Water depth at the site is 121 m (397 ft). All the wells will be permanently P&A'd.
TheMaersk Interceptor next heads to PL 001B to drill three water injector wells and one oil producer for the Ivar Aasen oil field development.
12/23/2016