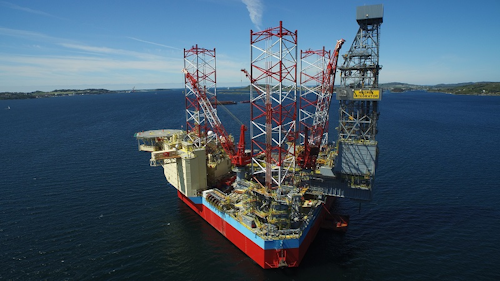 Offshore staff
COPENHAGEN, Denmark– Aker BP has contracted the jackup Maersk Integrator to work offshore Norway for a year, starting next June.
This is the first rig to be contracted fully under the alliance signed last year byAker BP, Maersk Drilling, and Halliburton.
After finishing its current campaign for Equinor on theGina Krog field in the North Sea, it will head south to the Ula field.
The tripartite is focused on developing a collaborative relationship that maximizes value for all parties under a shared incentives model, with a mutual commitment to reduce waste and deliver value.
Contracts are based on market-rate terms but with potential for upside for all parties, based on delivery and performance.
"With shared incentives, all parties will work as one team towards delivering safe and efficient operations at the lowest possible well cost," said Jørn Madsen, CEO ofMaersk Drilling.
The three companies are investigating new ways of jointly increasing the efficiency of drilling campaigns, in part via integrated project organizations, aligned safety procedures.
TheMaersk Integrator is an XL Enhanced ultra-harsh environment jackup customized for the North Sea. It has been at the Gina Krog field since June 2015.
Halliburton will act as service provider for the next campaign on Ula.
"We expect to gain more and more mutual benefits from working together in new and innovative ways," said Tommy Sigmundstad, SVP Drilling and Wells at Aker BP.
The alliance aims to lower the cost per barrel and increase profitability through implementation of digital solutions, increased efficiency, and standardization and simplification of processes. It is a five-year agreement with the option to extend by an additional five years.
09/06/2018