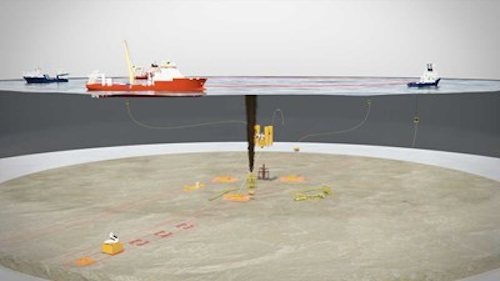 Offshore staff
TRIESTE, Italy– Oil Spill Response Ltd. (OSRL) has launched Offset Installation Equipment (OIE) from the equipment's new home base in Trieste, Italy.
The launch represented the culmination of six years of work between members of theSubsea Well Intervention Project (SWRP), OSRL, and Saipem.
Designed specifically for scenarios where direct vertical access to a wellhead is not possible, the new technology enables well capping or related equipment to be rapidly installed at a safe distance from an incident for the first time.
The new equipment can be deployed up to 500 m (1,640 ft) from an incident site and is suitable for use at a working depth of 75 to 600 m (246 to 1,968 ft). OIE is also fully compatible with OSRL's capping equipment, creating an end-to-end capping and containment solution suitable for almost all subsea scenarios.
Saipem designed, manufactured, and recently successfully tested the new equipment in the northern Adriatic Sea. The company is now in charge of storage and maintenance.
OIE is now available to existing OSRL members through a subsea well intervention services (SWIS) supplementary agreement. Current members include BP, Chevron, ConocoPhillips, ExxonMobil, Petrobras, Shell, Statoil, and Total – all of which represent the founding members of SWRP.
OSRL CEO Robert Limb said: "For us, and all those involved in SWRP, the launch of the OIE is final piece of the puzzle and the culmination of a lot of hard work. Since the formation of the project in 2011, we had one core objective; to design and build a comprehensive range of well capping solutions, with the flexibility to meet the current and future requirements of the industry. With the arrival of OIE here in Italy, that objective is met."
03/06/2018