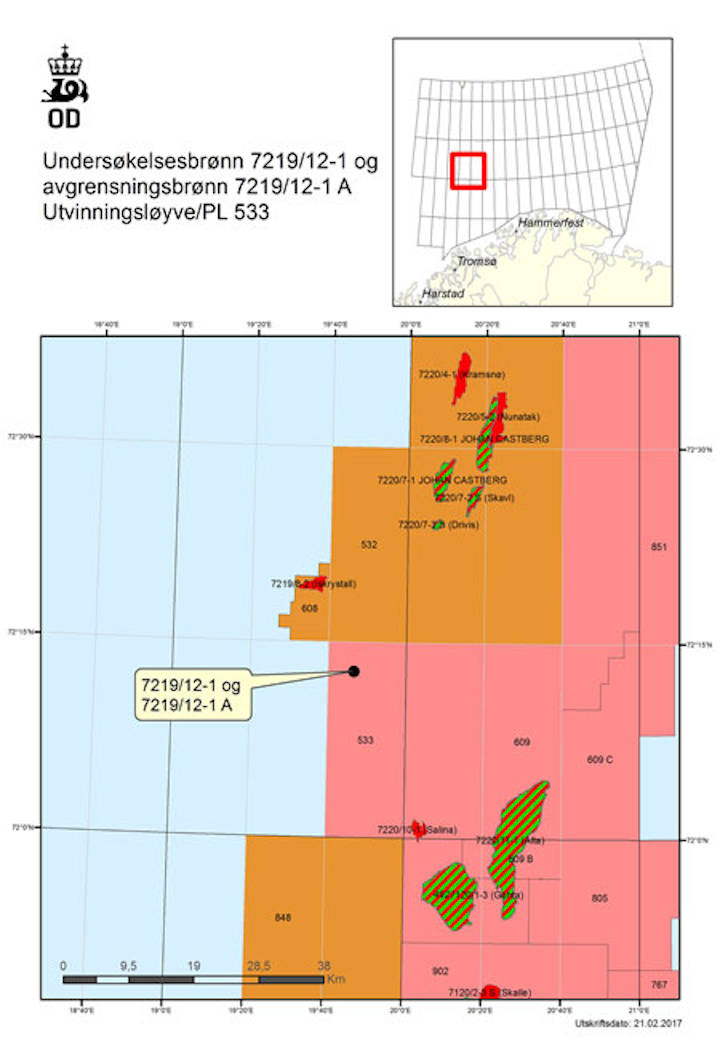 Offshore staff
OSLO, Norway – Lundin Norway has proven oil and gas from its latest two wells in the Alta area of the Barents Sea, according to the Norwegian Petroleum Directorate (NPD).
The semisubmersibleLeiv Eiriksson drilled wildcat well 7219/12-1, 32 km (19.9 mi) northwest of the Alta discovery well, and followed up with appraisal well 7219/12-1 A. Water depth was 323 m (1,060 ft).
Well 7219/12-1 encountered a total oil column of around 60 m (197 ft) and an overlying total gas column of roughly 60 m, all in sandstone with good reservoir properties in the Tubåen formation.
The appraisal well confirmed a mostly equivalent gas and oil column in the Nordmela and Tubåen formations with good reservoir properties.
NPD estimates resources in the range of 5.5-16 MMcmoe. The partners will assess the scope for further delineation and production testing of the discovery.
These were the second and third exploration wells on production license 533, awarded in 2009.
TheLeiv Eiriksson now proceeds to PL 492 in the Barents Sea to drill appraisal well 7120/1-5 for Lundin.
02/24/2017