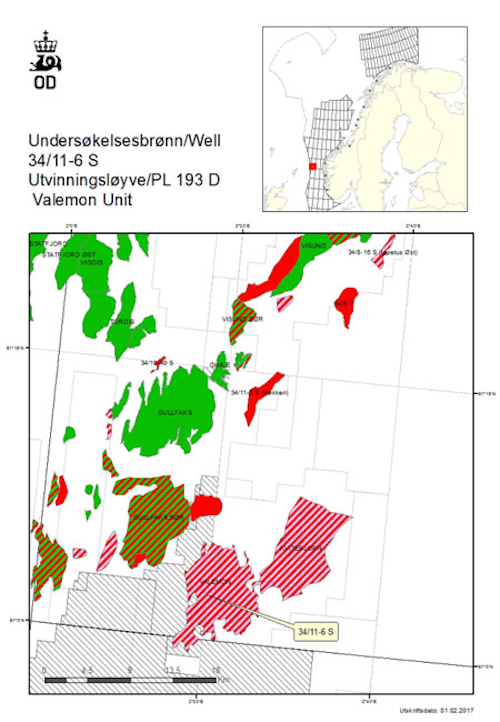 Offshore staff
STAVANGER, Norway – Statoil has discovered more gas/condensate on the west flank of its Valemon field in the Norwegian North Sea.
The jackupWest Elara drilled the well on the Valemon West structure in license PL 193D in 133 m (436 ft) of water, 160 km (99.4 mi) northwest of Bergen. Estimated reserves are 20-50 MMboe.
The well, the first on the license, was drilled to a vertical depth of 4,337 m (14,229 ft) below sea level, encountering two gas columns in the mid-Jurassic Tabert and Ness formations. Currently it is being completed and put onstream from theValemon platform, which began operations two years ago.
According to Statoil, the Valemon reservoir is complex because it is fragmented and also high-pressure/high-temperature.
Gas from the field is transported via a pipeline from the Huldra platform to the Heimdal complex for onward delivery to European gas markets.
Condensate is piped to Kvitebjørn for stabilization and further transport to the Mongstad processing center north of Bergen.
Another Statoil-operated appraisal well, drilled by the semisubmersibleDeepsea Bergen on the Johan Sverdrup field, encountered a 16-m (52-ft) oil column in the Upper Jurassic Draupne formation.
However, reservoir properties were moderate to poor, according to theNorwegian Petroleum Directorate. The location was 2 km (1.2 mi) northwest of appraisal well 16/2-9 S in 115 m (377 ft) water depth.
No oil/water contact was proven. The licensees will assess the result in terms of a possible future development.
TheDeepsea Atlantic will continue on to drill development wells on Johan Sverdrup.
02/03/2017