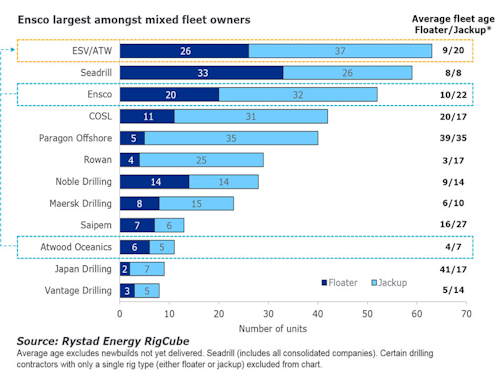 Offshore staff
LONDON, HOUSTON, and NEW YORK – Ensco plc and Atwood Oceanics, Inc. have entered into a definitive merger agreement under which Ensco will acquire Atwood in an all-stock transaction. The agreement was unanimously approved by each company's board of directors and is expected to close in 3Q.
Ensco expects to realize annual pre-tax expense synergies of approximately $65 million for full year 2019 and beyond. The combination is expected to be accretive on a discounted cash flow basis.
Under the terms of the merger agreement, Atwood shareholders will receive 1.60 shares of Ensco for each share of Atwood common stock for a total value of $10.72 per Atwood share based on Ensco's closing share price of $6.70 on May 26, 2017. This represents a premium of approximately 33% to Atwood's closing price on the same date.
Upon close of the transaction, Ensco and Atwood shareholders will own approximately 69% and 31%, respectively, of the outstanding shares of Ensco plc.
Ensco CEO Carl Trowell said: "The combination of Ensco and Atwood will strengthen our position as the leader in offshore drilling across a wide range of water depths around the world – creating a broad platform that we can build upon in the future. This acquisition significantly enhances our high-specification floater and jackup fleets, adding technologically advanced drillships and semisubmersibles, and refreshing our premium jackup fleet to best position ourselves for the market recovery. We believe that the purchase price for these assets represents a compelling value to our shareholders, which is augmented further by expected synergies from the transaction."
Trowell added: "By bringing together our high-specification rig fleets, technology and innovation, and talented rig crews, we plan to continue delivering high levels of operational and safety performance to an even larger group of clients. We will remain one of our industry's best capitalized companies. Our combined financial strength, diverse customer base, and larger scale should lead to greater strategic and competitive advantages as well as cost efficiencies, allowing for opportunistic investments through the market cycle."
Atwood CEO Rob Saltiel stated: "The combination is an ideal strategic fit. Both companies are passionate about operational excellence, safety and customer satisfaction with core values and cultures that are perfectly aligned. We believe the combined company will offer an unmatched rig fleet and workforce. These attributes, anchored by a strong balance sheet, should enable the company to thrive as market conditions improve and allow Atwood shareholders to fully participate in the market recovery."
Combined fleet
Upon closing, Ensco will add six ultra-deepwater floaters, including four drillship and five high-specification jackups. The combined company will have a fleet of 63 rigs, comprised of ultra-deepwater drillships, versatile deep- and mid-water semisubmersibles and shallow-water jackups, along with a diverse customer base of 27 national oil companies, supermajors, and independents.
Within the fleet of 26 floating rigs (semisubmersibles and drillships) are 21 ultra-deepwater drilling rigs, capable of drilling in water depths of 7,500 ft (2,286 m) or greater, with an average age of five years.
Barclays Capital pointed out that two of the six UDW floaters are uncontracted newbuilds, with the other four currently drilling/contracted and four of the five jackups required are idle.
The jackup fleet will reportedly be the largest in the world, composed of 37 rigs, including 27 premium units. These jackups are all equipped with many of the advanced features requested by clients for shallow-water drilling programs, such as increased leg length, expanded cantilever reach, greater hoisting capacity and offline handling capabilities.
The combined will have drilling contracts spanning six continents in nearly every major deep- and shallow-water basin around the world. Regions will include major markets such as the Gulf of Mexico, Brazil, West Africa, Middle East, North Sea, Mediterranean, and Asia/Pacific.
Ensco's executive management will continue with Carl Trowell as president and CEO, Carey Lowe as executive vice president and COO, and Jon Baksht as senior vice president and CFO. The chairman will continue to be Paul Rowsey and the board of directors will include Trowell, plus two members from Atwood's current board effective at closing.
Ensco will continue to be domiciled in the UK and senior executive officers will be located in London and Houston. Ensco plc shares will continue to trade on the New York Stock Exchange under the symbol ESV.
The balance sheet of the combined company will remain strong. Adjusted for the expected retirement of Atwood's outstanding revolving credit facility with cash and short-term investments on hand, total available liquidity was $3.9 billion on March 31, 2017 and included $1.6 billion of cash and short-term investments.
The estimated enterprise value of the combined company is $6.9 billion, based on the closing price of each company's shares on May 26, 2017. The combined company will have approximately $3.7 billion in revenue backlog.
The transaction is subject to approval by the shareholders of Ensco and Atwood, as well as other customary closing conditions. The transaction is not subject to any financing conditions. Ensco and Atwood intend to file a joint proxy statement/prospectus with the Securities and Exchange Commission as soon as possible. The companies anticipate that the transaction could close as soon as calendar 3Q 2017.
Analyst reaction
Following the announcement, several analyst firms released comments, with multiple firms noting that this is the first merger between two offshore drillers since the downturn began.
"In recent months, there have been several second-hand rig transactions in the offshore drilling space with a number of rigs changing hands, such asBorr Drilling's acquisition of Transocean's jackup fleet and Shelf Drilling's acquisition of three Seadrill jackups," Rystad Energy wrote.
"Consolidation has been long overdue and the Ensco-Atwood merger is the first step towards a less fragmented industry" says Liz Tysall, senior offshore rig analyst at Rystad Energy. "The combined fleet will have 63 rigs – 26 floaters and 37 jackups giving Ensco the largest blended fleet as compared to otheroffshore drilling contractors with fleets including both floaters and jackups."
Excluding newbuilds, the average age of the combined floater fleet is less than 10 years while the average age of the jackup fleet is 20 years, Rystad said. According to its RigCube database, combined the two companies will have just under 55 years of contracted rig backlog.
Barclays Capital Equity Research felt that the transaction "does little to firm up the market," as it explained in a note released soon after the announcement.
"What does this transaction mean for the currently oversupplied offshore drilling market? Unfortunately, not much," Barclays Capital continued. "The fact remains that theoffshore drilling market (both floaters and jackups) remains severely oversupplied with floating rig utilization at 47% (134 contracted out of 282 total supply (note: 205 currently marketed however) and jackup rig utilization at 54% (293 contracted out of 540 total supply (note: 458 currently marketed, however))."
Evercore ISI's Oilfield Services, Equipment & Drilling group looked differently upon the combination.
"We believe this transaction may kick start a much-needed M&A cycle in the offshore drilling group. For several quarters now, we have voiced the notion that improvement in the beleaguered offshore drilling sub sector is predicated on two key catalysts - continued rig attrition and further M&A/consolidation. Today's joint announcement between Ensco and Atwood is a major step forward for a sector that is just beginning to see stabilization in terms of contracting and day rates," the firm said in a note.
"The combined company will represent an offshore drilling bellwether that rivals the likes of Transocean in terms of fleet size," Evercore continued. "The combined fleet will be among the most technologically-advanced in the industry…Catalysts for the ATW floaters include Leviathan Phase II for theAdvantage and the Kosmos/BP exploration success in Senegal for the Achiever. In addition, the jackup fleet will be the largest in the world, composed of 37 rigs total (27 "premium" units). Atwood's five jackups represent an average vintage of seven years, one of which is currently contracted in Southeast Asia.
"Future revenue growth opportunities are anticipated with an expanding fleet serving a larger customer base over a wider geographic footprint. In Atwood, Ensco is acquiring key deepwater exposure in Australia, shallow-water exposure in Southeast Asia, and solid relationships with key customers elsewhere (Noble Energy in Israel and Kosmos/BP in Senegal)."
05/30/2017