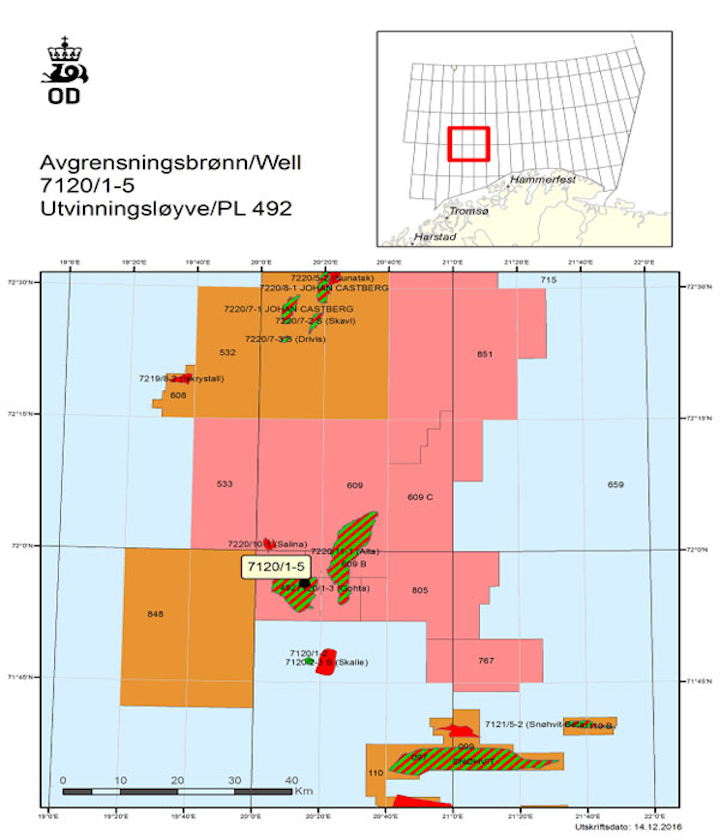 Offshore staff
STOCKHOLM, Sweden – Lundin Norway will downgrade resources from the Gohta discovery in the Barents Sea following results of the latest appraisal well.
The semisubmersibleLeiv Eirkisson drilled well 7120/1-5 in 344 m (1,129 ft) of water in license PL492, 4 km (2.5 mi) north of the original 2013 discovery well. The main aim was to delineate the field's northeastern extent.
However, drilling only delivered hydrocarbon shows within a 300-m (984-ft) gross sequence of Permian age carbonates with poor reservoir quality, and no pressure gradients could be established.
This was Lundin's fourth well in its 2016/2017 drilling campaign on the Loppa High in the Barents Sea. The company says Gohta remains a satellite opportunity to the larger adjacent Alta discovery, and this latest well will have no impact on the wider program for the area which includes an imminent appraisal well 15 km (9.3 mi) to the northeast onAlta, to be drilled by the same rig,  followed by an extended test next year.
Lundin expects theLeiv Eiriksson to drill all its operated wells in the southern Norwegian Barents Sea this year.
The company plans a further four exploratory wells targeting prospective resources of more than 500 MMboe. Three will be in the southern Barents on the following prospects:
Børselv in PL609, on-trend and north of the Alta and Neiden discoveries.
Korpfjell, a multi-billion bbl prospect in the southeastern Barents Sea, targeting one segment of the shallower horizons.
Hufsa prospect in PL533 along trend with Lundin's recentFilicudi discovery, subject to partner approval.
Additionally, the company will participate in a well west of the Volund field in license PL150 in the North Sea and it plans to acquire a large high-spec 3D seismic survey over the Alta, Gohta, and Filicudi discoveries and associated prospects.
Elsewhere, Lundin says the F3-B106 side track well in the Dutch North Sea, which started drilling last December, has been successfully completed and put on production.
Offshore Malaysia, the company has submitted applications to Petronas to relinquish the exploration areas of block PM307 and for the granting of a gas holding area over the Tembakau gas discovery; to extend the drill or drop decision on exploration block PM328 until September; and to relinquish exploration blocks SB307 and SB308.
05/03/2017