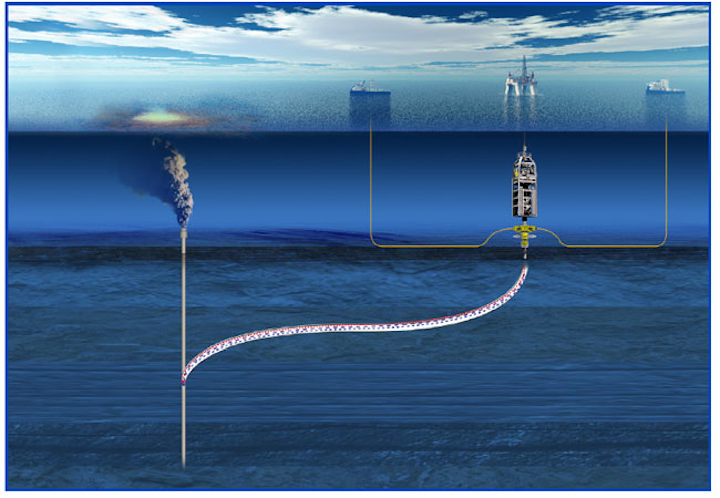 Offshore staff
HOUSTON – Trendsetter Engineering and Add Energy have received a contract to provide contingency assurance against potential high flow dynamic kill operations for a major operator.
The companies will use Trendsetter's patented relief well injection spool (RWIS) in support of an operator's drilling campaign on a newly sanctioned field development.
The RWIS has been designed and built to increase the pumping capacity of a single relief well by enabling the ability to pump in excess of 200 b/min of kill mud through a single relief well, using multiple vessels as opposed to the conventional method of multiple relief wells.
The RWIS is installed on the relief well wellhead beneath the BOP to provide additional flow connections into the wellbore. Using high‐pressure flex lines, the inlets enable pumping units from separate floating vessels, in addition to the relief well rig, to deliver a high‐rate dynamic kill.
Additional benefits generated by this hardware include an increase in redundancy and flexibility of operations by moving the additional required pumps and mud storage to the remote vessels, allowing for the potential for an off‐bottom kill which could provide a faster relief well intercept, thus reducing spill volumes to the environment.
A kill operation with two or more relief wells is recognized as being a challenging operation. In the event of multiple relief wells being required to dynamically kill a well, all relief wells will have to successfully locate and intersect the blowing wellbore. The blowing well must be killed through a simultaneous coordinated kill operation. Assuming a blowout where a relief well intervention is the only option and that the kill requirements are expected to be very demanding, using the RWIS is said to provide a cost-effective solution.
Brett Morry, global technical director of Trendsetter Engineering, said: "We believe that Add Energy's expert knowledge and experience in well control engineering, in partnership with our patented RWIS equipment will provide well control assurance for this operator if an incident was to occur."
Morten Haug Emilsen, senior vice president at Add Energy, commented: "We are eager to implement our combined expertise with this client to ensure safe and economic drilling operations. Our recent enhancements in well control technology will now allow for drilling of prolific reservoirs and still maintain single relief well contingency.
"The RWIS technology has a huge cost saving potential that enables larger completions and optimized casing design. We are pleased with this contract win and to be given the opportunity to provide substantial and unique benefits to our client in safety assurance."
04/20/2017