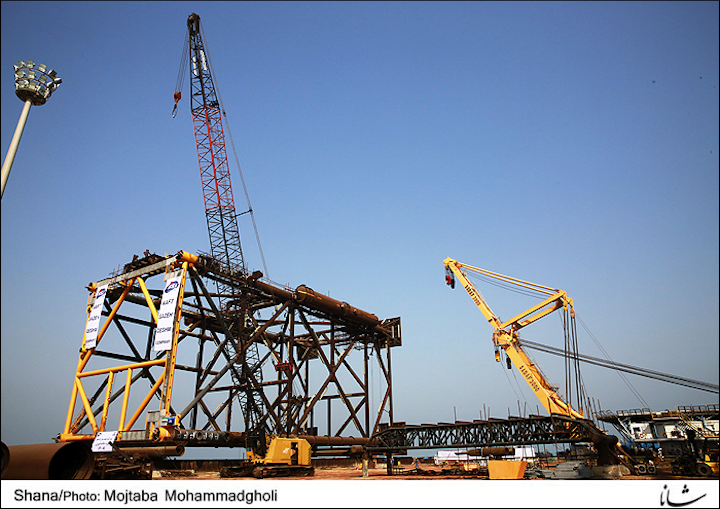 Offshore staff
TEHRAN, Iran – National Iranian Oil Co. (NIOC)'s reservoir advisor committee has reviewed Maersk Oil's proposed plan for further development of the South Pars oil layer in the Persian Gulf, according to news service Shana.
During the meeting, the participants reviewed reservoir specifications, development projects in three phases, and possible scenarios for enhancing production from the layer.
Maersk has been producing oil from the field's oil layer in Persian Gulf waters for close to 25 years, Shana added, applying techniques for drilling very long horizontal wells, flushing with gas, water injection, water and gas injection on the field.
Most of Iran's gas output comes from the joint South Pars gas field in Persian Gulf waters
Another Shana report says that Iranian Offshore Oil Co. (IOOC) has begun pre-start-up of gas processing facilities for theHengam field.
Shahsavar Arghash, director of Qeshm Island Operations at IOOC, said the facilities, equipped with 80 MMcm of gas processing capacity, should come online soon, allowing Hengam's flare stack on Qeshm Island to be extinguished.
Gas will be sent to the island's power plant and industries and to the local market in Bandar Abbas.
Shana also reported thatKhazar Exploration and Production Co. (KEPCO) has held talks with leading oil companies on investing and developing deepwater oil fields in the Iranian sector of the Caspian Sea.
CEO Mohsen Delaviz said KEPCO has recently formed an investment committee to pursue targeted negotiations with interested parties.
KEPCO is a subsidiary of NIOC, focused on E&P in the Caspian Sea.
07/27/2017