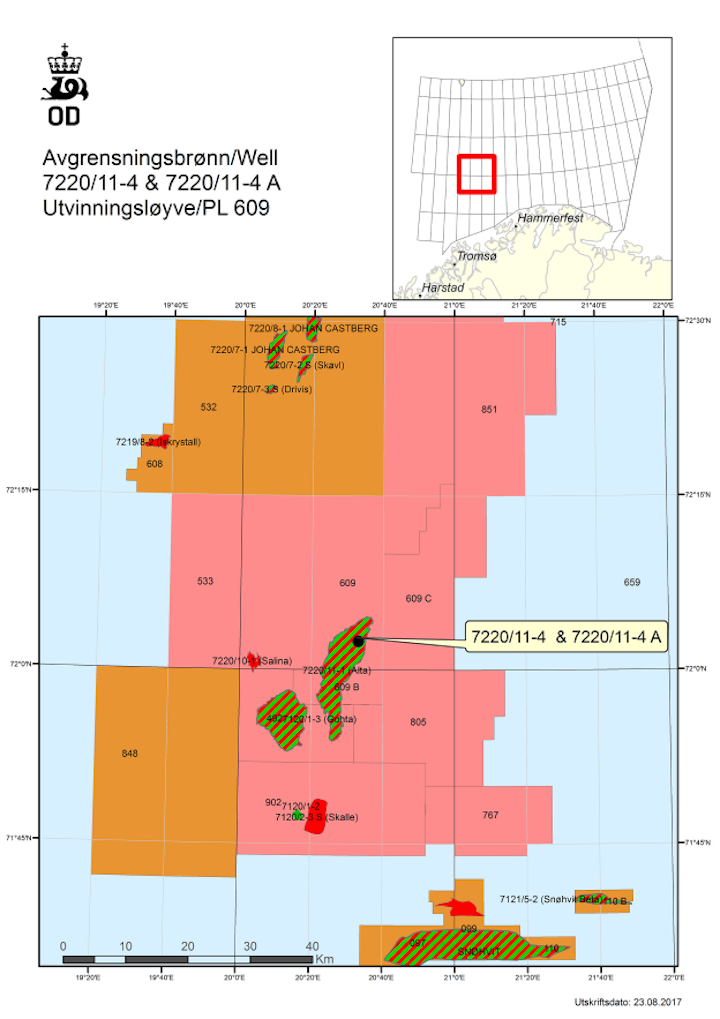 Offshore staff
OSLO, Norway -- The semisubmersible Leiv Eiriksson has completed drilling Lundin Norway's two latest appraisal wells on the Alta field in the Barents Sea.
According to the Norwegian Petroleum Directorate (NPD), both were drilled in 402 m (1,319 ft) of water, around 2 km (1.2 mi) south of the discovery well 7220/11-1 in license PL609, and 190 km (118 mi) northwest of Hammerfest.
Well 7220/11-4 was designed to delineate Alta's eastern flank by investigating the reservoir extent of conglomerates of late Permian to early Triassic age. It encountered a 48-m (157-ft) hydrocarbon column of which 44 m (144 ft) was oil.
Subsequent well 7220/11-4 A intersected a 44-m oil column in the same interval and in carbonate rocks in the Ørn formation.
Reservoir quality through the oil column was variable in both cases, although various zones had good permeability.
Pressure data revealed the same hydrocarbon contacts as observed in previous wells on Alta and confirmed good communication across the structure.
A formation test in well 7220/11-4 flowed a maximum of 960 cm/d of oil and 93,000 cm/d of associated gas per through a 56/64-in. nozzle opening.
The rig will next drill wildcat well 7220/6-3 in the northern part of PL 609.
Petroleum Safety Authority Norway has approved Lundin's proposals for two further exploration wells in the Barents Sea, using the same rig.
These are wells 7219/12-2 S and 7219/12-2 A in PL533.
Water depth at the site is 338 m (1,109 ft), with drilling scheduled to start in September.
08/28/2017