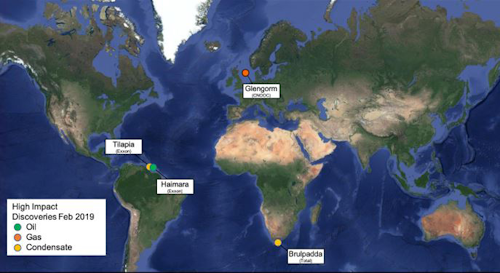 Offshore staff
LONDON – Total's deepwater Brulpadda gas/condensate discovery in the Outeniqua basin offshore South Africa is the first frontier basin-opener since ExxonMobil's Liza offshore Guyana in 2015, according to Westwood Energy.
Brulpadda appears to be a significant deepwater extension of a play initially proven in shallow water in the 1960s.
Total now plans to acquire 3D seismic data over the block and test other prospects.
Graeme Bagley, Westwood's head of Global Exploration & Appraisal, said the 3,500-sq km (1,351-sq mi) deepwater play fairway that may have been opened is potentially larger than the currently proven oil-prolific area of the Liza Upper Cretaceous play.
However, Brulpadda contains mainly gas, which will make commercialization less straightforward.
The recent Tilapia discovery on theStabroek license off Guyana delivered the highest net pay to date, Bagley said, with ExxonMobil and its partners also proving a substantial gas and condensate accumulation in the Haimara discovery.
In the UK central North Sea, following CNOOC's 250-MMboeGlengorm discovery, the focus of attention now switches to Eni's HP/HT Rowallan well, currently drilling, and Edinburgh, one of the largest undrilled prospects on the UK shelf.
Westwood has identified a further 76 high-impact wells either drilling or planned for the remainder of this year, testing a potential 22 Bbbl, half in deepwater.
02/11/2019