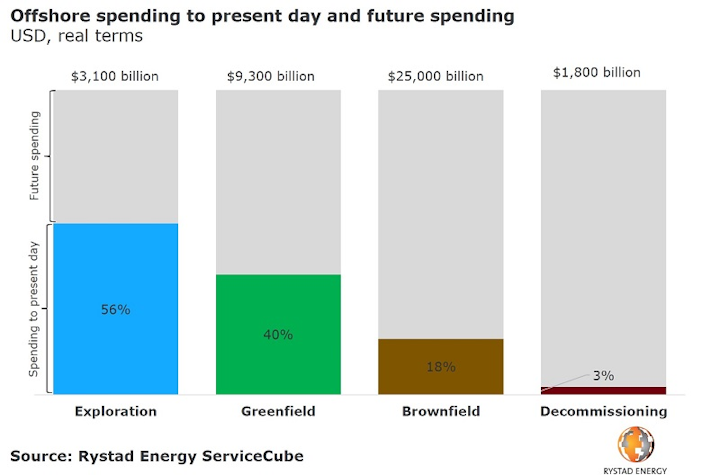 Offshore staff
OSLO, Norway – There is plenty of life remaining in the offshore sector over the decade ahead, according to analyst Rystad Energy.
The company claims that only 40% of estimated oil and gas volumes of offshore projects have so far been sanctioned for development. Historically, sanctioned greenfield projects have incurred total investments of about $3,700 billion in real dollars worldwide to date, Rystad found.
And historical expenditures account for only around 20% of estimated brownfield spending, which leaves 80% remaining, said Audun Martinsen, head of oilfield services research at Rystad Energy.
Future expenditure on existing fields in production will be influenced by recent improvements in reservoir depletion rates provided by new technologies.
Around half the 3,000 oil and gas fields producing today could still be in service in 2030. Other projects either under development or likely to be sanctioned represent an additional 2,500 oil and gas fields, each of which will need brownfield investments at some point.
"Assuming that oil and gas will still be consumed for petrochemical use and power production through 2100, we expect the industry will spend five to six times as much on brownfield services in the future compared to how much has been spent thus far," Martinsen said.
Rystad also estimates that roughly 800 Bboe of resources remain to be discovered globally – in which case the exploration sector could remain in business for the next 50 years.
"However, we expect the offshore industry's appetite for exploration to continue to weaken over the long term as more potential resources are discovered," Martinsen added.
"Exploration will likely be forced into deeper and more remote waters, which could be too expensive to develop given the availability of other competitive sources of supply."
Decommissioning is the most immature market in the upstream oil and gas industry: Rystad believes that only 3% of necessary decommissioning expenditure has already been spent, covering facilities removal and P&A both on existing and to-be developed oil and gas fields.
In terms of size, however, it is a relatively marginal market worth around $1,800 billion, Martinsen said.
Maintenance and operations services are more volume-intensive, with 58% of the market to be spent in the future (around $20,500 billion).
"Well services and commodities, drilling contractors, EPCI, and subsea are equally large markets which we expect will make significant contributions to the service sector in the next 50 years," Martinsen concluded.
05/08/2019