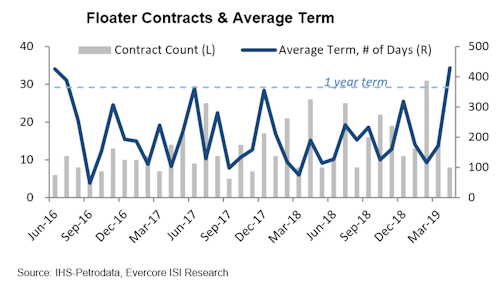 Offshore staff
NEW YORK CITY– In March, 33 rig contracts were confirmed, according to Evercore ISI's latest "Offshore Rig Market Snapshot."
This is up from 19 a year ago as theoffshore drillers signed 135 contracts in 1Q or up 44% from 94 in 1Q 2018.
The jackup mix was unchanged at 57%, but Evercore said it was encouraged that average terms lengthened for both jackups and floaters to almost one year for jackups and more than five months for floaters. In 2018, average terms for jackups was six to seven months and less than five months for floaters.
Of the 33 contracts secured in March seven (four jackups, three floaters) were for at least a year as NOCs (Petrobras, PEMEX, and Saudi Aramco) appear to be stepping up while day rates are still near trough levels.
So far this month, 20 contracts have been announced, which exceeds the 12 contracts confirmed as of this point a year ago. With Brent breaking out to the $70 range earlier this month, the analyst expects several new rig contracts to be announced in the coming weeks to exceed the 54-total reported last April.
Of the eight floater contracts confirmed in April, the average term is for 429 days or 14-15 months which is the highest floater average seen since May 2016. While contracted day rates remain largely private, Inpex contracted the sixth-generation, ultra-deepwater semisubMaersk Deliverer for offshore Australia for three years beginning next April at $270,000/d, and Wintershall contracted the ultra-deepwater harsh-environment semisub Scarabeo 8 for offshore Norway for two wells (seven-eight months) beginning this October for $300,000/d.
On the jackup side, a modest day rate of $54,000 was disclosed for a two-well contract offshore Indonesia beginning in June for the 300-ftKS Java Star.
The report noted that contracting activity appears to be picking up in Asia, with PTTEP executing a one-year priced option for theNoble Clyde Boudreaux. Last year Noble Corp. reactivated and upgraded the fifth-generation semisub. The 10,000-ft floater originally built in 1987 is now contracted through April 2020 with no gaps in 2019.
04/22/2019