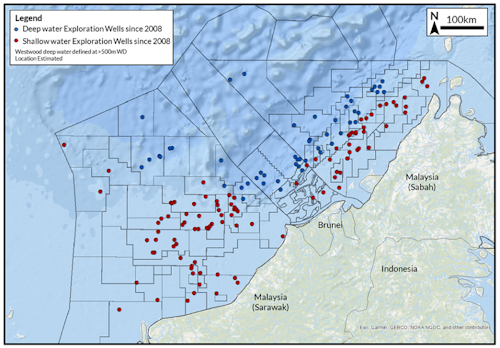 Offshore staff
LONDON – Deepwater frontier successes are needed to sustain future exploration offshore northwest Borneo, according to a new report by Westwood.
"Sabah & Sarawak Basins: Looking deep into NW Borneo" reveals that 153 exploration wells have been drilled in the region since 2008, resulting in 37 commercial discoveries that have delivered a cumulative 3.5 Bboe, 94% of which is gas.
Since 1962, 12.6 Bboe has been discovered in the offshore Sarawak basin of which 2.8 Bboe has been proven from 2008 onwards.
The main play has been Miocene carbonate build-ups in the Central Luconia province. Although at the maturing stage in shallow water, there is potential for larger discoveries in deeper water, according to Ili Afifuddin, E&P Analyst, Global Exploration & Appraisal at Westwood, as evidenced by the 200 MMboe discovered in the Marjoram andRosmari structures in 2014.
Marjoram, in 800 m (2,624 ft) water depth, remains the sole commercial find in deepwater in the basin to date. Other deepwater wells have tested an Oligo-Miocene clastic play but have generated only one non-commercial gas discovery, with charge and reservoir quality proving to be the main risks.
Explorers in the region therefore need new play models to test, Afifuddin suggested.
In the offshore Sabah basin just over 7 Bboe has been discovered since 1970 but only 700 MMboe has been proven since 2008.
The main play by volume in the Sabah basin is gas in Miocene deepwater turbidites in structural traps. In shallow waters, the plays are mature, and exploration, with no new finds since Salman-1 in 2015.
Last year Total's Tepat-1 well tested a frontier Miocene carbonate build-up play in deepwater Sabah, and is understood to have encountered oil and gas, although results are being kept tight.
According to Afifuddin, a further two frontier plays have been identified in the basin and both are reviewed in the Westwood report.
03/20/2019