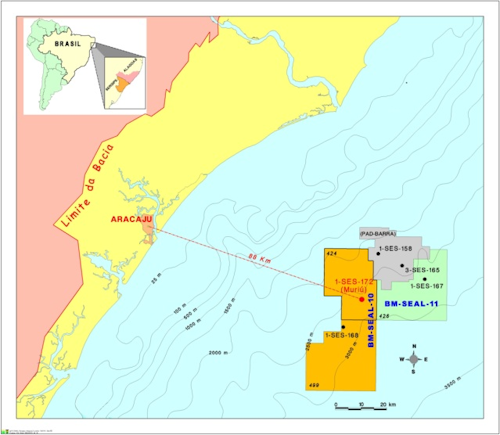 Offshore staff
RIO DE JANEIRO –Petróleo Brasileiro S.A. (Petrobras) has made a new light hydrocarbon discovery in ultra-deepwater Sergipe-Alagoas basin in area BM-SEAL-10 of block SEAL-M-424.
The 1-BRSA-1108-SES (1-SES-172) well was drilled to TD of 5,347 m (17,538 ft.) in 2,583 m (8,472 ft.) water depth 85 km (53 mi) off Aracaju, Sergipe.
Informally knows as Muriú, the well was confirmed by log data analysis taken inCalumbi formation reservoirs with a thickness of 67 m (220 ft.).
Petrobras plans added logging operations (records of features of a formation) and to gather rock and fluid data with the aim of preparing the assessment strategy of the new discovery, as well as to characterize the conditions of the reservoirs found. The next step will be to submit the Discovery Assessment Plan to the National Petroleum Agency (ANP).
Muriú follows reports in Oct. of another Sergipe-Alaboas basindiscovery at SEAL-M-426.
12/05/2012