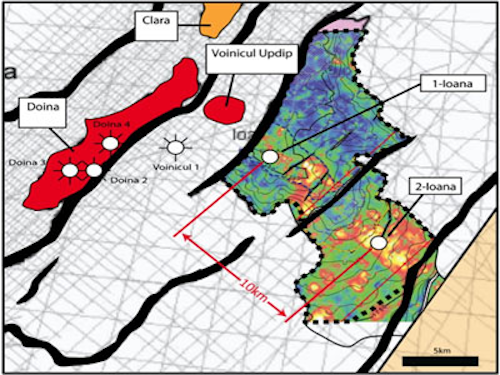 Offshore staff
CALGARY, Canada – Sterling Resources' first exploration well offshore Romania had sub-commercial gas shows.
The well on the Ioana prospect inblock 15 (Midia) in the Black Sea was drilled to a TD of 1,950 m (6,397 ft). Gas shows from drilling mud gas measurements were experienced from 500 m (1,640 ft) MD downwards. 
Sterling's main target, identified by 2D seismic, was encountered as prognosed with gas shows extending over a 70-m (229-ft) interval between 1,186-1,422 m (3,891-4,665 ft) TVDSS. Analysis of open-hole logs across this interval indicate that the formation comprises thin-bedded sands within lower permeability siltstone and gas saturations, similar to siltstones present within the gas leg of the nearby Doina and Ana fields.
"We are encouraged by the gas saturations in the primary objective, thereby proving up potential trap and gas sourcing to the structure," said Patrick Whitley, Sterling's vice president, International Exploration. "However, the reservoir development is poorer than expected in this updip area of the prospect and will require further work with seismic and drilling to appraise the large Ioana structure further to the east."
TheIoana-1 well was drilled on the western edge of a large structure measuring 150 sq km (58 sq mi). Its location was governed by the safe operating water depth limit of the only available jackup, theGSP Jupiter.
Mike Azancot, Sterling's president and CEO, said: "While the results from this first well on the prospect have not confirmed commercial resources, the extensive gas shows confirm the presence of an active gas system within the Ioana prospect. We will now be assessing the potential follow on program for the Ioana prospect for next year, which might commence with the acquisition of a 3D seismic survey over Ioana and other Midia block prospects.
Subject to contracting a drilling vessel rated to operate in deeper water (circa 100 m/328 ft), we would plan to drill in the most promising part of the Ioana prospect to the southeast of the Ioana-1 well, where stronger seismic amplitudes and direct hydrocarbon indicators suggest a better quality gas-bearing reservoir . In addition, we plan to drill exploration wells on one or more other prospects in the Midia block. All of the above work will be subject to financing, regulatory and partner approvals."
Following well abandonment, the rig will be transfer 70 km (43 mi) to the north to drill a second well for Sterling, Eugenia-1. This will be the first well drilled in the oil-prospective Pelican block, and is expected to take 30 days to complete.
11/19/2012