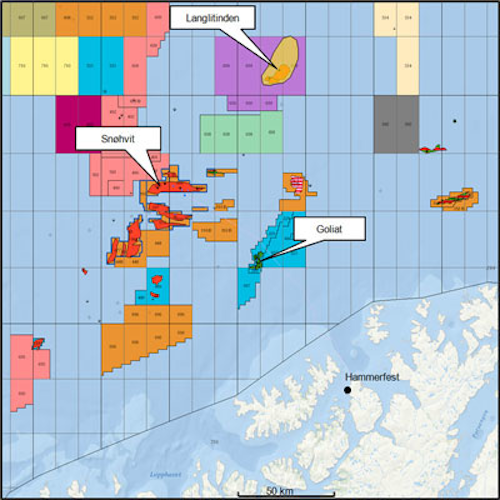 Offshore staff
TRONDHEIM, Norway – The semisubmersible Transocean Barents has spudded Det norske oljeselskap's first operated well in the Barents Sea.
Well 7222/11-2 in license PL659 is targing the Langlitinden prospect in 338 m (1,109 ft) of water, 80 km (49.7 mi) northeast of theSnøhvit gas/condensate field and 165 km (102 mi) northwest of Hammerfest.
Det norske aims to prove hydrocarbons in the Triassic Kobbe formation on the Bjarmeland platform. The same structure was drilled in 2008, at a location roughly 6 km (3.7 mi) distant, with the well encountering a small gas column in the Snadd formation.
In the Kobbe formation, two hydrocarbon-bearing zones were discovered: a 3-m (9.8-ft) oil column and an 11-m (36-ft) oil and gas column at a deeper level.
Seismic data indicate large channels in Kobbe that may also function as stratigraphic traps. Det norske hopes to confirm hydrocarbons and good reservoir characteristics inside the channels, with gas the likeliest outcome.
Partner Lundin Petroleum estimates potential resources in Langlitinden at 220 MMboe. Drilling is expected to take about 50 days to complete.

01/14/2014