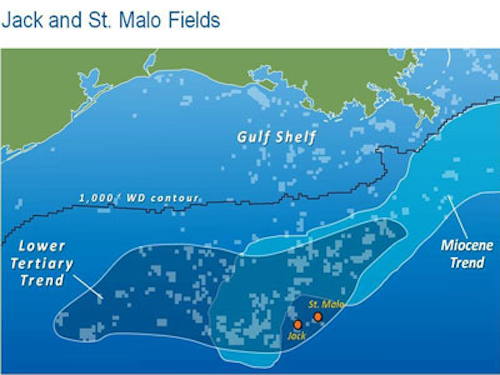 Offshore staff
SAN RAMON, California –Chevron Corp. (NYSE: CVX)has completed a successful production test on the St. Malo PS003 well in the Lower Tertiary trend in the deepwater Gulf of Mexico. Oil flow exceeded 13,000 b/d and was constrained by the test equipment.
The test, in Walker Ridge block 678, targetedLower Tertiary sands more than 20,000 ft (6,096 m) under the seafloor and was conducted during August and September 2012. This is the first development well in the St. Malo field, which is being jointly developed with the Jack field.
The Jack and St. Malo fields are within 25 mi (40 km) of each other and are being jointly developed with a hostfloating production unit located between the two fields in 7,000 ft (2,134 m) of water, approximately 280 mi (450 km) south of New Orleans. The facility is planned to have a design capacity of 177,000 boe/d. Total project costs for the initial phase of the development are estimated at $7.5 billion.
Chevron has a working interest of 51% in the St. Malo field. Other owners are Petrobras (25%), Statoil (21.5%), ExxonMobil (1.25%) and ENI (1.25%).
2/28/2013