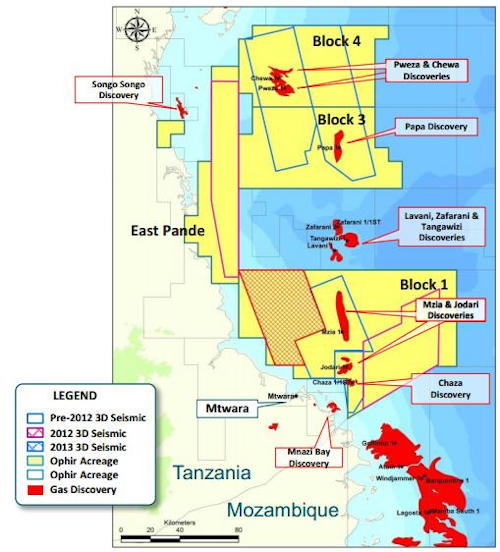 Offshore staff
READING, UK – A drillstem test of the Mzia-2 well in deepwater block 1 offshore Tanzania flowed as much as 57 MMcf/d of natural gas. This is the first test of the deeper Cretaceous reservoir and was constrained by the equipment capacities.
Mzia-2 is 4 km (2.5 mi) from theMzia-1 discovery, in around 1,620 m (5,314 ft) of water and approximately 45 km (28 mi) off the coast of southern Tanzania. It is approximately 22 km (13.5 mi) north of the Jodari-1 discovery well, also in block 1, where a successful drillstem test was completed in March on the shallower Tertiary reservoir.
The drillshipDeepsea Metro-1 has relocated to block 4 to drill an exploration well, Ngisi-1, adjacent to the Pweza and Chewa discoveries.
BG Group will use data from the current exploration and appraisal campaign and a recently completed3-D seismic survey to help identify new offshore targets for a third exploration program beginning in late 2013.
BG Group as operator has a 60% interest in blocks 1, 3, and 4 offshore Tanzania, with Ophir Energy holding 40%.
5/1/13