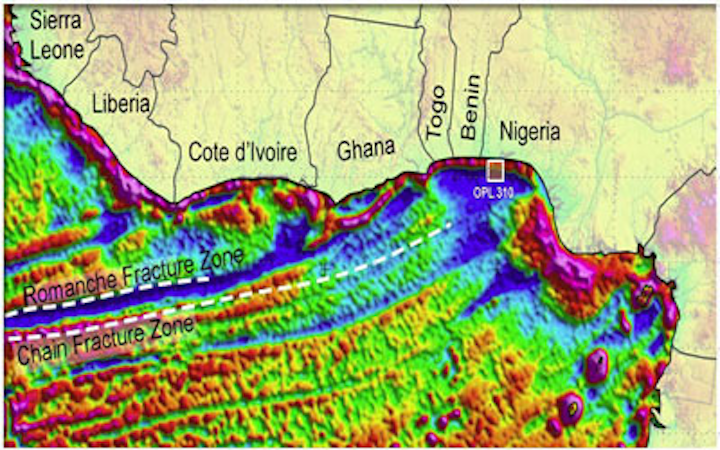 Offshore staff
LONDON– Afren and its partners Optimum Petroleum Development and Lekoil have suspended drilling operations on the Ogo prospect offshore Nigeria for safety reasons.
While circulating bottoms up at total depth, the drillstring parted at 3,390 ft (1,033 m) and during recovery of the drillstring from the wellbore, the well took a hydrocarbon kick. After this had been safely controlled, the partners decided to permanently secure the well
TheOgo-1 well was drilled to 10,402 ft (3,170 m) TVDSS on the OPL 310 license, intersecting a gross hydrocarbon section of 524 ft (160 m), with 216 ft (66 m) of net stacked pay.
A subsequent side track, drilled to 12,050 ft (3,673 m) TVD, encountered hydrocarbon intervals in the same Turonian, Cenomanian, and Albian reservoirs drilled and logged with Ogo-1. In addition, the syn-rift section encountered a 280-ft (85-m) true vertical thickness gross hydrocarbon interval.
Based on the well data, the partners estimate P50 to P10 recoverable resources in the 774-1,180 MMboe range across the Ogo four-way dipped closed and syn-rift structures, with further potential in the syn-rift play.
Latest pressure/volume/temperature analysis confirms high-quality reservoir fluid properties with a 40° API, 600 GOR, 0.42 cP viscosity oil in the Turonian; a 39° API, 870 GOR, 0.40 cP viscosity oil in the Cenomanian; and a condensate-rich gas in the Albian of up to 115 bbl/MMcf. The partners expect the syn-rift to contain light oil or a condensate-rich gas.
They plan to drill an appraisal well in the second half of next year, ahead of development planning. They will also expand 3D coverage, which currently covers just 25% of the block, to define further prospectivity.
OPL 310 is part of the Upper Cretaceous fairway that runs along the West African Transform Margin. It extends from the shallow-water continental shelf to deepwater.
11/19/2013