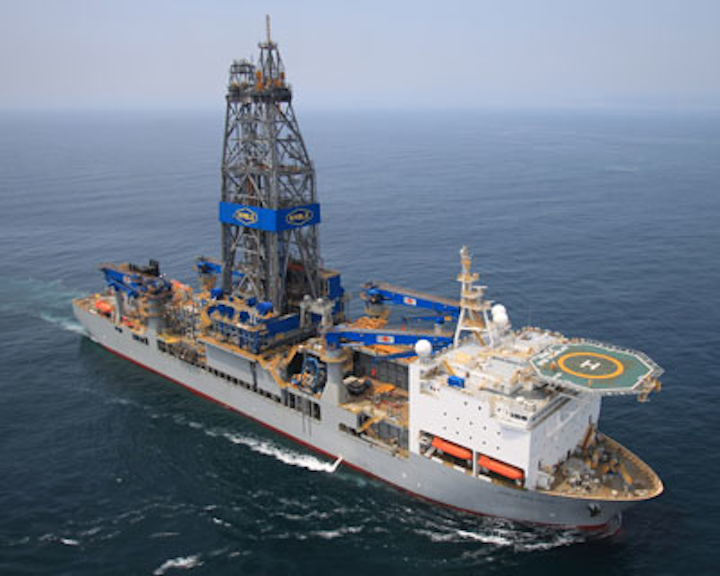 Offshore staff
HOUSTON – Noble Corp. has issued an update on the status of its drilling rig fleet.
Recently, theNoble Mick O'Brien returned to work on a 400-day program in the Middle East.
Noble Lloyd Noble, the newly delivered jackup said to be world's largest, is expected to start its first contract – a four-year assignment – during 4Q.
The ultra-deepwater drillshipNoble Bob Douglas has secured a one-well program offshore Suriname, in direct continuation of the rig's current contract.
Usage of the company's 16 floating rigs fell from 74% in 1Q to 51% in 2Q, due to the semisubmersiblesNoble Amos Runner, Noble Danny Adkins, and Noble Dave Beard coming off contracts.
Also, following a contract cancellation agreement with Freeport, theNoble Sam CroftandNoble Tom Madden became idle effective May 10.
Mid-year, five of the company's semisubmersible rigs were cold stacked or are being cold stacked:Noble Homer Ferrington, Noble Amos Runner, Noble Max Smith, Noble Jim Day, and Noble Dave Beard – the latter was relocated to Singapore following its contract completion in April.
The recently idle drillshipsNoble Sam Croft and Noble Tom Madden have been warm stacked in the US Gulf of Mexico, along with the Noble Danny Adkins, as Noble evaluates contract opportunities for these rigs.

Usage of the company's 14 jackup rigs was slightly lower in 2Q at 83%, following completion of a contract for the Noble Houston Colbert offshore Argentina, although this was partly offset by a full quarter of operations for the Noble Sam Hartley offshore Brunei.
At the end of 2Q, theNoble Regina Allen was warm stacked in the North Sea while the Noble Houston Colbert is being relocated to the Middle East region. The remaining fleet is contracted well into 2017 or beyond.

David W. Williams, Noble's chairman, president and CEO, said: "Reduced customer spending and the current fleet capacity imbalance weigh heavily on the near- to intermediate-term outlook for our industry. However, I remain encouraged by the long-term prospects for industry recovery.
"A number of our customers have commented on successful cost rationalization efforts that have resulted in baseline project economics that, in some cases, have been achieved at less than $50 per barrel.
"Also, although offshore exploration has been curtailed dramatically over the last two years, I am further encouraged by some recent operator interestoffshore Guyana and Suriname, where a new, highly prospective hydrocarbon province is under evaluation, as well as the developing deepwater opportunity offshore Mexico. Opportunities such as these bode well for future offshore activity."
07/28/2016
Share your news withOffshore at news@offshore-mag.com