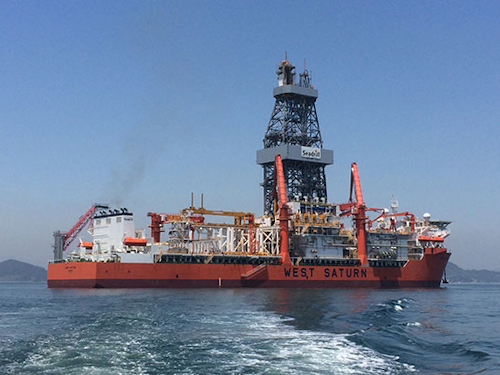 Offshore staff
HAMILTON, Bermuda – Seadrill has issued an update on its fleet and market prospects for the offshore drilling industry.
The company says it is making good progress ondeferring newbuild deliveries.
In October, North Atlantic Drilling and Jurong Shipyard Pte Ltd. agreed to delay delivery of the harsh environment semisubmersibleWest Rigelto Jan. 6, 2017.
Also in October, Sevan Drilling Ltd. and COSCO exercised the third six-month deferral option for theSevan Developer to April 15, 2017.
During 3Q, economic utilization was 95%, compared to 98% in 2Q 2016. The semisubmersiblesWest Orion, West Phoenix, West Alpha, West Pegasus, and Sevan Driller completed their contracts, while the semisub West Eclipse and drillshipWest Vigilant returned to service.
ThejackupsAOD I and AOD II received three-year contract extensions from Saudi Aramco expiring in June 2019 and July 2019, respectively.
The jackupWest Castor secured a new one-year contract with Eni in Mexico beginning next month.
The drillshipWest Vigilant secured a three-month contract under the existing agreement with Repsol in Malaysia commencing in August.
The jackupAOD IIIreceived an 83-day contract extension from Saudi Aramco expiring in December 2016.
The jackupWest Ariel was moved to non-operating flotel mode and the day rate was reduced to $120,000 from July 2016 through the remainder of its contract term, ending in February 2018.
The semisubWest Pegasus received a notice of termination from PEMEX for the drilling contract effective Aug. 16, 201. Seadrill has disputed the grounds for termination and is reviewing its legal options.
The jackupWest Epsilon received notice of cancellation from Statoil effective mid-October 2016. The unit was previously contracted until the end of December 2016. In accordance with contractual terms, a lump-sum payment of about $11 million is payable by Statoil.
The semisubWest Phoenix has received a 90-day contract with Total west of Shetland.
The drillshipWest Saturn has secured a one-well contract at $225,000/d with ExxonMobil in Liberia.
Cardon IV exercised its option on the jackupWest Freedom to extend the non-operating flotel period by three months to March 31, 2017. Operations will recommence on April 1, 2017, and will extend to Sept. 30, 2017, at a rate of $225,000/d.
While Seadrill's long-term view of the market for high specification drilling rigs remains positive, in the near term theoffshore drilling market remains extremely challenging.
Oil prices remained in the $40-50 range during 3Q, a level that is not sufficient to reverse the declines in upstream spending. It is expected that upstream spending will again decline in 2017, albeit less than the reductions of approximately 27% in 2016 and 24% in 2015.
While the forecasted decline in spending sets the stage for another challenging year in the offshore drilling industry, thedrilling contractor points out, it is important to recognize that the resetting of costs across the value chain may facilitate increased activity with only a marginal increase in commodity prices.
Based on the past years of underinvestment and the forecast for 2017, it is expected that decline rates will continue to accelerate. The longer the period of underinvestment and accelerated decline persists, the more new projects and infill drilling will be required to replace this lost production, Seadrill adds.
Although in the short run incremental oil company spending may be directed to short cycle barrels, including onshore, Seadrill says, the full cycle economics of offshore is competitive and will be required to reverse the effects of the last two years of under investment and meet future production requirements.
Activity level in the floater market has increased, albeit primarily for short-term work at extremely competitive day rates. This improvement, the contractor says, is from a very low base and utilization in the floater market is expected to get worse before it improves.
Since the beginning of this downturn 68 floaters have been scrapped and Seadrill expects many more older and idle units to be scrapped.
The combination of volume returning to the market at a measured pace and accelerated scrapping activity is expected to lead to a balanced market at some point, according to Seadrill. Based on the expected level of scrapping activity and the number of units that are anticipated to be cold stacked, a relatively small increase in spending could meaningfully tighten the floater market.
The market for high specification jackups is expected to bottom earlier than the floater market due to generally shorter contract durations, shorter contract lead times, and shelf production being more oriented toward development drilling.
While utilization continues to decline the contractor points out that Southeast Asia and the Middle East continue to be an active spot market.
About 5% of the jackup fleet has been retired since the beginning of the current downturn. The low carrying cost of idle jackups does not compel many rig owners to scrap these units, Seadrill adds.
With an orderbook of more than 100 units and muted scrapping activity, the contractor says, it may be take some time for the jackup market to return to a healthy utilization level.
Per Wullf, CEO and president of Seadrill Management Ltd., said: "The offshore drilling market continues to be challenging; however, we are seeing an improvement in the level of bidding activity. Most of the new work is for short-term contracts at or near cash flow breakeven levels, and 2017 is expected to remain challenging.
"However, we expect the market to gradually improve as costs have been reset across the value chain and more drilling activity will be needed to avoid accelerated production declines."
11/22/2016