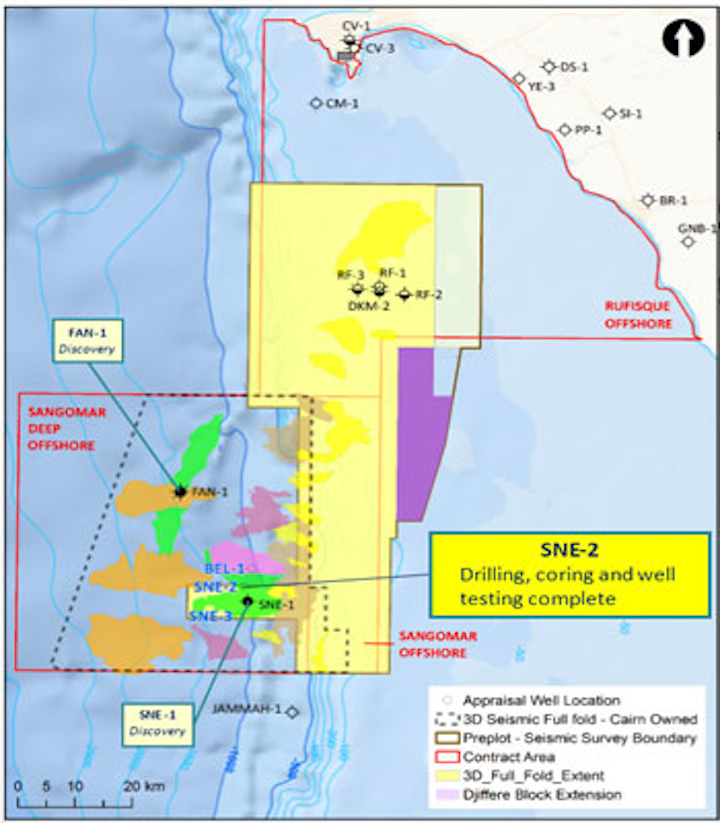 Offshore staff
EDINBURGH, UK – Results from the first appraisal well on the deepwater SNE oil discovery offshore Senegal were positive, according to operator Cairn Energy.
SNE-2 is being P&A'd following drilling, coring, logging, and a drillstem test (DST). The location is in 1,200 m (3,937 ft) of water in the Sangoma Offshore block, 3 km (2 mi) north of the SNE-1 oil discovery well and 100 km (62 mi) from the Senegalese coast.
Cairn plans to revise its resource estimates for the field following the results of the next appraisal well.
The DST flowed oil at a constrained rate of up to 8,000 b/d on a 48/64-in. choke from a 12-m (40-ft) interval, confirming the high deliverability of the principal reservoir unit.
Testing across a 15-m (49-ft) interval of lower quality "heterolithic" pay flowed up to 1,000 b/d on a 24/64-in. choke, confirming that these reservoirs are able to produce at viable rates, Cairn added. However, flow was unstable due to the 4.5-in. DST tubing.
Other highlights of the program included similar oil-down-to and oil-up-to depths as seen in SNE-1 – 103 m (338 ft) compared with 95 m (311 ft) – and indications of the same 32°API oil quality seen in SNE-1.
01/04/2016
Share your news withOffshore at news@offshore-mag.com