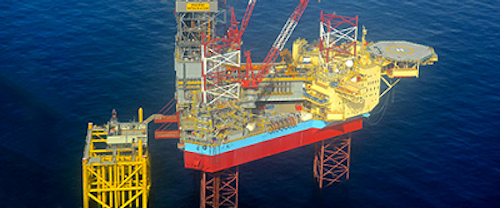 Offshore staff
STAVANGER, Norway- Statoil and partner Total have discovered gas and condensate in the Julius structure close to the King Lear field in the southern Norwegian North Sea.
The jackupMaersk Gallant drilled well 2/4-23S in 68 m (223 ft) of water in the production license PL 146, encountering hydrocarbons in the Ula formation with moderate reservoir quality, according to the Norwegian Petroleum Directorate. Statoil estimates recoverable volumes in the range 15-75 MMboe.
The well was also designed to appraise King Lear, discovered by the PL146/PL333 partnership in 2012. It provided important information on reservoir distribution and reservoir communication in King Lear.
Following further analysis, Statoil expects volumes in King Lear to stay within its previous estimate of 70-200 MMboe. The partners will now work on a development solution.
This was the fourteenth exploration well in the concession, awarded under Norway's 12 licensing round.
Mærsk Gallantnow heads to nearby PL 018 for well work on the ConocoPhillips-operated Eldfisk field.
Another Maersk rig, theMaersk Integrator, has started drilling the first production well at the Gina Krog field in the central Norwegian North Sea, again for operator Statoil.
Drilling should continue into 2019.
Statoil drilling supervisor Tonny Lemqvist said: We will now drill and firstly install ten 30-in. conductors. We will then drill the top section of six wells. The plan is that two to three wells will be drilled into the reservoir before the topside arrives from South Korea."
07/23/2015