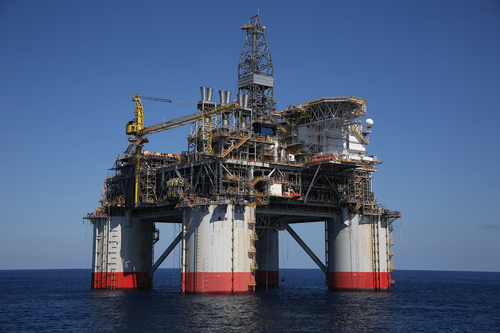 Chevron brings Big Foot online
Chevron Corp. has started crude oil and natural gas production from the Big Foot deepwater project in the US Gulf of Mexico. The field is located about 225 mi (360 km) south of New Orleans, in a water depth of about 5,200 ft (1,584 m).
Discovered in 2006, the Big Foot field is estimated to contain total recoverable resources of more than 200 MMboe and has a projected production life of 35 years.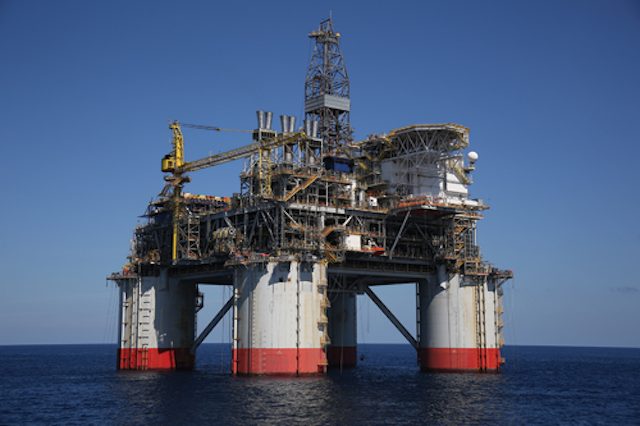 (Photo: Business Wire)
The project uses a 15-slot drilling and production tension-leg platform, said to be the deepest of its kind in the world, and is designed for a capacity of 75,000 b/d of oil and 25 MMcf/d of natural gas.
"The Big Foot project strengthens Chevron's deepwater portfolio and further demonstrates that the Gulf of Mexico is an integral part of our diverse global portfolio and long-term strategy," said Jeff Shellebarger, president of Chevron North America Exploration and Production. "The project advances our interest in safely providing reliable, affordable energy to meet a growing global demand."
Chevron's subsidiary, Chevron U.S.A. Inc., is the operator of Big Foot with a 60% working interest. Co-owners are Equinor Gulf of Mexico LLC (27.5%) and Marubeni Oil & Gas (USA) LLC (12.5%). •
US Gulf of Mexico poised for historic year, says WoodMac
Next year is shaping up to be a good one in the US Gulf of Mexico, with the first increase in drilling in four years, first-ever production from a Jurassic play, key new project sanctions and an uptick in M&A all in the cards, global natural resources consultancy Wood Mackenzie said.
William Turner, senior research analyst at Wood Mackenzie, said: "We expect 2019 to be a strong year for the Gulf of Mexico. In addition to exciting new project sanctions, which could usher in more than $10 billion of investment into the region, a couple of historic firsts set to occur next year could set the stage for years to come."
In its annual outlook, "US Gulf of Mexico: 5 things to look for in 2019," WoodMac said that after four years of steady decline, exploration activity is expected to increase next year by 30%. Shell and Chevron will lead the way, but the actual growth in exploration will come from new entrants – Kosmos Energy, Equinor,Total, Murphy, and Fieldwood.
Next year may also mark a crucial point for the offshore industry, with Chevron's Anchor project in Green Canyon block 807 expected to move forward. Anchor, which has an operating pressure of 20-ksi, would be the first ultra-high-pressure project in the world to reach final investment decision (FID). FID at Anchor would be the culmination of more than a decade of multiple joint industry research and development projects to design kit that can safely produce at 20-ksi. The current limit is 15-ksi.
"Anchor will be an important one to watch," said Turner. "The sanction of Anchor will be a significant milestone for Chevron, Total and Venari, but also mark a crucial point for the offshore industry as it enters the final frontier in deepwater development."
Success at Anchor will lead to the next wave of mega-investment in the Gulf of Mexico, as several 20-ksi projects are waiting to follow its lead. Wood Mackenzie believes that if Anchor moves forward, more than $10 billion of investment could flow into the region.
"Proof of concept at Anchor, and more certainty around facilities to serve as hosts, will surely increase interest in discovered fields," Turner said. "We expect it will also invite more exploration for ultra-high-pressure targets over the next couple of years. Even so, with higher technical risk and higher breakevens, market conditions would have to align for it to become a reality."
Shell's Appomattox development, in Mississippi Canyon block 392, is due onstream in 2019 – marking the first production ever from a Jurassic reservoir in the Gulf of Mexico. This will be a significant milestone for Shell, as Appomattox is a cornerstone of its global deepwater strategy. All eyes will be on the well performance of the potential heavy hitter.
"If the Jurassic roars to life in 2019, it could give operators greater confidence in the play's potential," Turner said. "However, if Appomattox disappoints, the Jurassic could continue to lie dormant. The wider region would also be missing an expected strong production growth contributor." •