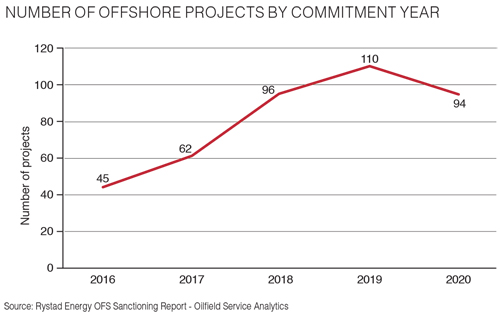 Offshore oilfield services market projected to improve in 2019
Rystad Energy forecasts $210 billion expenditure globally on offshore oilfield services next year, as 100 new projects potentially go forward. This follows four consecutive years of declining revenues for offshore services contractors.
"The uptick in new projects in 2017, 2018 and now 2019 will be enough to turn revenue growth positive to mid-single digits as offshore capex is set to increase due to the recent years of capital commitments," said Audun Martinsen, head of oilfield service research at Rystad Energy.
Next year's new projects carry combined greenfield commitments of around $120 billion, Rystad claimed.
Despite the recent swings in the oil price, operators still plan to spend more next year and move forward on project sanctioning, with more than 85% of projects on course for sanction likely to generate returns above 10% even at current oil prices.
This is because development costs have come down by 30% since 2014. Unit prices in 2018 were at levels not seen by the offshore market since 2006, the analyst added.
"Couple that with one of the most profitable years for E&P in decades in 2018, and the recent production cut agreement by OPEC and Russia – offshore operators want to focus on field development again," Martinsen said.
In terms of value for next year's projects, 30% is in the Middle East, 25% in South America, 15% in both Africa and Asia, and the remainder in Europe and North America combined.
Sverdrup process topsides heads to Norway
The topsides for the Johan Sverdrup processing platform in the Norwegian North Sea is setting sail from the Samsung Heavy Industries yard on Geoje Island, South Korea.
Aker Solutions was responsible for engineering and procurement management for the topsides. According to Johan Sverdrup operator Equinor, since construction finished in May, there have been numerous tests to ensure the processing facility is completed to the fullest extent possible prior to installation next spring at the field location.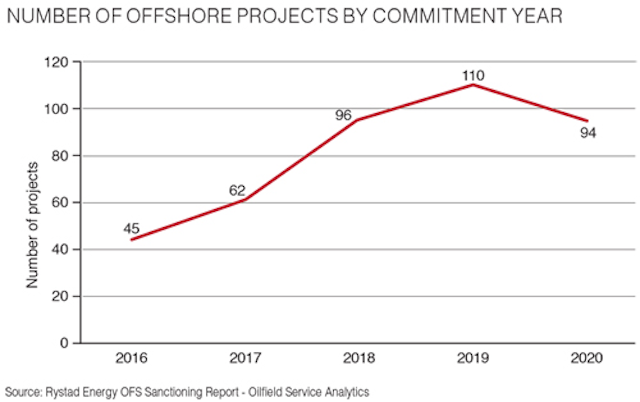 "Having built this as a complete topside gave us a unique opportunity to test a lot of systems that we normally wouldn't have been able to test prior to installation offshore," said Jill Sale, project manager for the processing platform and responsible for the Johan Sverdrup project in South Korea.
"This has given us a better picture of the quality of the work undertaken and helps safeguard the plan towards start-up of the field next year."
The topsides is now sailing to Norway onboard the heavy-transport vessel Boskalis Vanguard. Its initial destination will be the Kværner yard on Stord, off western Norway, where two pedestal cranes will be mounted, and where further preparations will follow before the structure is lifted into position in one single lift by thePioneering Spirit.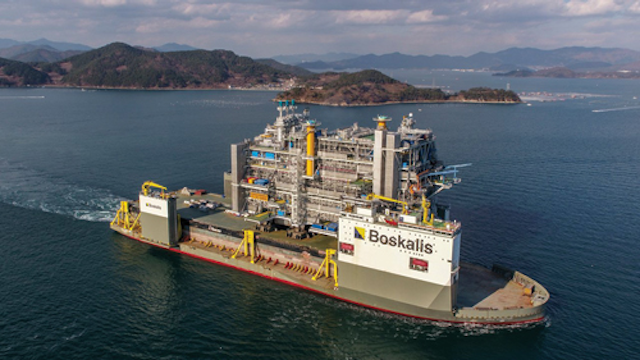 The Johan Sverdrup processing platform is now sailing to Norway onboard the BoskalisVanguard. (Courtesy Equinor)
Qatar Petroleum to partner with Eni off Mexico
Qatar Petroleum will acquire 35% of Eni's interest in Area 1 in the Bay of Campeche, pending approval from the Mexican authorities.
Area 1 was awarded outright to Eni under a competitive bid round in September 2015 and signing of the production-sharing contract followed three months later. To date it has drilled five successful wells in the concession, which is estimated to hold in-place resources of 2.1 Bboe in the Amoca, Miztón and Tecoalli fields.
Recently, Eni took a final investment decision to proceed with the $2-billion development, which will feature an initial early production phase. This is due to start up in mid-2019 through a wellhead platform on the Miztón field, with production heading onshore through a 10-in. multiphase line followed by treatment at an existing Pemex facility.
Eni anticipates an early production plateau of 8,000 b/d; full-field production will start in early 2021 through an FPSO with a treatment capacity of 90,000 b/d. Two more platforms will be installed on the Amoca Tecoalli fields. Area 1 oil output will eventually total 90,000 b/d and 65 MMcf/d from 2021. •