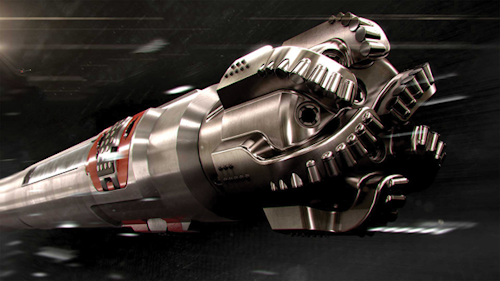 Jessica Stump, Assistant Editor
Downhole serviceproviders continue to advance rotary steerable systems to deliver accurate wellbore placement, optimize borehole quality, and enable maximum drilling efficiency.
Weatherford International plc has unveiled the Magnus rotary steerable system (RSS). This is said to combine reliable, high-performance drilling with precise directional control. The push-the-bit tool is designed for deployment in nearly any drilling scenario, including high doglegs.
Key features of the Magnus system include fully independent pad control, a fully rotating bias unit with minimal bottomhole assembly (BHA) stabilization, real-time BHA diagnostics and autopilot functionality. The system comprises several modular components to facilitate quick and easy maintenance, even in remote locations, the company said.
"The Magnus system represents a major shift in the way that Weatherford approaches directional drilling and has great potential to disrupt the status-quo rotary steerable market," said Etienne Roux, Global Segment President, Drilling and Evaluation at Weatherford. "We are excited to provide our customers with a reliable and cost-effective option for efficiently drilling high-quality wellbores."
The Magnus rotary steerable system is compatible with all standard drill bit designs. (Courtesy Weatherford)
Scientific Drilling International has introduced the HALO RSS. It combines enhanced lateral and proportional steering control with a single integrated collar and high-performance capabilities to help operators optimize wellbore placement, reduce handling time and risk, and improve overall drilling time.
CEO Phil Longorio said the new RSS "helps meet operators' reliability and economic challenges, while yielding more efficient, smoother directional wellbores, resulting in faster well construction and completion operations."
Designed to drill vertical, curve, and lateral sections in a single run, the rugged system helps avoid costly trips and improves rates of penetration (ROP) even in the harshest conditions. It maximizes wellbore exposure in the target zone by drilling curve sections with build rates of up to 15°/100 ft, and its 3D directional control functionality delivers lateral placement.
The push-the-bit HALO system can be paired with conventional mud motors and operates at a maximum bit speed up to 350 RPM. The system is said to allow precise on-the-fly directional control without interrupting the drilling process. It consists of an integrated steering unit and MWD survey package, with azimuthal gamma ray geosteering and pressure-while-drilling capabilities.
Nabors Industries has revealed the OrientXpress RSS. It features a steering mechanism that does not use traditional external actuation or moving parts. Instead, its near-bit stabilizer pushes off center from the drillstring and can be adjusted continuously to orient the bit in the desired direction. This, the company said, enables customers to drill higher-quality wells while lowering the cost of directional drilling operations through better downhole maneuverability, improved borehole quality, and reduced non-productive time.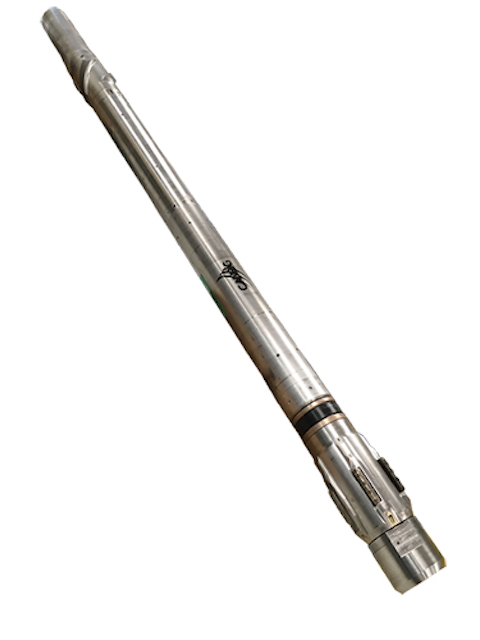 The OrientXpress' shorter tool design is said to deliver greater lateral lengths in the reservoir. (Courtesy Nabors Industries)
In addition, the new system eliminates extra time consumed by sliding, reduces friction, and increases the rate of penetration in hostile drilling environments. Its shorter tool design is said to deliver greater lateral lengths in the reservoir. The system is designed to operate in any extended-reach drilling well onshore or offshore, conventional or unconventional, at temperatures up to 347°F (175°C) and up to 20,000 psi (1,378 bar).
Recently National Oilwell Varco reported the first commercial run for its Vector RSS in the Middle East/North Africa region. While drilling in a hard, interbedded formation with significant dips, the client needed to drop from 2.5° and hold vertical for the remainder of the well. NOV's VectorEXAKT 800 RSS was integrated into the BHA, and a single tool drilled the entire 12¼-in. section in two bit runs. The RSS was said to have immediately reduced casing-shoe inclination from 2.6° to vertical and maintained verticality within 0.1° for the entire 3,028-ft (923-m) section until target depth was reached.
The 2019 Rotary Steerable Systems Directory provides a detailed listing of rotary steerable systems available on the market. •