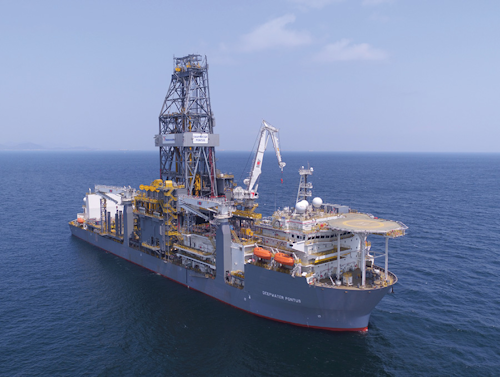 Rigs under contract up 92% over last year
Bruce Beaubouef,Managing Editor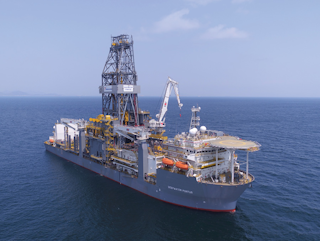 Transocean's ultra-deepwater drillshipDeepwater Pontus entered the US Gulf of Mexico in late 2017 to begin a 10-year contract with Shell. (Courtesy Transocean)
The outlook for E&P activity in the US Gulf of Mexico has been bleak over the past four years, but there are positive signs on the horizon. The number of active rigs in the Gulf (20) remains unchanged from May 2017, but that figure is considerably higher than it was as recently as late March, when there were 12 active rigs in the Gulf, according to the Baker Hughes rig count. In the following weeks, there has been a roughly 66% increase in rig activity.
Moreover, marketed rig utilization in the US Gulf of Mexico has picked up over the past year, according to IHS Markit. In particular, the jackup segment has shown the greatest improvement, although the current contracted count, which is up nearly 92% from a year ago, is still only about a third of what it was when the downturn began in 3Q 2014.
Meanwhile, the past year has resulted in little to no change in the number of contracted semis and drillships in the region. "The reductions in the marketed supplies of both semisubmersibles and drillships has helped boost their respective utilization numbers even without an increase in the contracted counts," says Cinnamon Edralin, senior rig analyst for IHS Markit.
New discoveries
Two significant deepwater discoveries that were announced in January seemed to herald the revival of the Gulf's E&P activity. One of these was Shell's deepwater Whale discovery, which the company described as one of its largest US Gulf of Mexico exploration finds in the past decade. The well encountered more than 1,400 net ft (427 m) of oil bearing pay. Evaluation of the discovery is ongoing, and appraisal drilling is under way to further delineate the discovery and define development options.
Whale is operated by Shell (60%) and co-owned by Chevron U.S.A. Inc. (40%). It was discovered in the Alaminos Canyon block 772, adjacent to the Shell-operated Silvertip field and approximately 10 miles from the Shell-operated Perdido platform. This major discovery adds to Shell's Paleogene exploration success in the Perdido area.
The other major announcement in January came from Chevron, which reported that it had made a "major" oil discovery at its Ballymore prospect, about three miles from the company's Blind Faith platform. The discovery is situated in water depth of about 6,540 ft, 75 mi from the Louisiana coast, covering four blocks in the Norphlet play. The Ballymore well reached a total measured depth of 29,194 ft and encountered more than 670 ft of net oil pay.
Total acquired a 40% working interest in Ballymore as part of an exploration agreement with Chevron signed in September 2017. Total officials say that Ballymore is the largest discovery by the company in the Gulf of Mexico. Chevron U.S.A. Inc. is the operator of the Ballymore prospect with a 60% percent working interest; Total E&P USA Inc. holds the remaining 40% stake.
Development drilling
Meanwhile, LLOG Exploration Co. reports that development drilling is underway at the Buckskin project, located in Keathley Canyon blocks 785, 828, 829, 830, 871, and 872 in approximately 6,800 ft (2,073 m) of water. The initial phase consists of two development wells in Keathley Canyon 829 and a 6-mi (10-km) subsea tieback to the Lucius platform at Keathley Canyon 875.
The Seadrill drillshipWest Neptune is drilling the initial two wells to about 29,000 ft (8,839 m). This will be followed by installation of subsea facilities. First production is expected in mid-2019.
LLOG added that to fully develop the field, which is estimated to contain about 5 Bbbl of oil in place, additional wells and subsea facilities will be required after the initial phase. LLOG says that Buckskin is the company's first development in the Lower Tertiary trend.
Field development
Field development activities are moving forward on a handful of projects in the Gulf. McDermott reports that it has won a subsea umbilical and flowline design and installation contract from Anadarko Petroleum Corp. This is a subsea tieback to the Anadarko-operated Lucius spar in Keathley Canyon block 875. The new development is in about 7,400 ft (2,256 m) of water in Keathley Canyon block 919. Anadarko expects production to begin next year. The Lucius field is 275 mi (443 km) southeast of Galveston, Texas.
McDermott will provide engineering, fabrication, installation and pre-commissioning of subsea infield flowlines, production umbilicals, and related subsea equipment. The company's operating center in Houston will perform project management and engineering. The flowlines will be fabricated at its spoolbase facility in Gulfport, Mississippi. The lay vesselsNorth Ocean 105 and North Ocean 102 are expected to perform the work.
Meanwhile, Shell currently has four Gulf of Mexico deepwater projects under construction – Appomattox, Kaikias, Coulomb Phase 2, and Vito, as well as investment options for additional subsea tiebacks.

In late April, Shell announced that it had sanctioned its Vito development project, located over four blocks in the Mississippi Canyon area. Shell says that the decision sets in motion the construction and fabrication of a new, simplified host design and subsea infrastructure. A forward-looking, breakeven price is estimated to be less than $35/bbl.
The Vito development will consist of a semisubmersible host facility and eight subsea wells with deep (18,000 ft) in-well gas lift. First oil is scheduled for 2021. Vito is expected to reach peak production of about 100,000 boe/d. Estimated recoverable resources are 300 MMboe.
The Vito development is owned by Shell Offshore Inc. (63.11% operator) and Statoil USA E&P Inc. (now Equinor)(36.89%); the field is located beneath more than 4,000 ft (1,219 m) of water, about 150 mi (241 km) southeast of New Orleans.
In 2015, Shell began to redesign the Vito project, reducing cost estimates by more than 70% from the original concept. The cost savings, the company said, are due to the simplified design, in addition to working collaboratively with vendors in a variety of areas including well design and completions, subsea, contracting, and topsides design.
"With a lower-cost developmental approach, the Vito project is a very competitive and attractive opportunity industry-wide," said Andy Brown, Shell Upstream Director. "Our ability to advance this world-class resource is a testament to the skill and ingenuity of our development, engineering and drilling teams."
Quickly following the Vito FID, Shell awarded an installation contract to Jumbo for the initial pre-lay of the mooring system as well as the subsequent tow and hook-up of the FPS. Shell has awarded a front-end engineering and design package and detailed engineering contract to Jacobs Engineering Group for the Vito host platform topsides, and also contracted Sembcorp Marine Rigs & Floaters Pte. Ltd. for the construction of the hull and topsides as well as the integration of the Vito floating production unit.
Shell also reports that its Appomattox semisubmersible production platform has departed Ingleside, Texas, and is on its way to its final location in the Gulf of Mexico.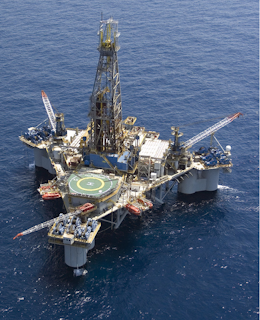 The semisubmersible drill rigNoble Paul Romano has been working for Hess Corp. in the Gulf of Mexico since September 2015. (Courtesy Noble Corp.)
Sanctioned in July 2015, Appomattox is 80 mi (129 km) offshore Louisiana, in approximately 7,200 ft (2,195 m) of water.
The development initially will produce from the Appomattox and Vicksburg fields and will consist of a semisubmersible, four-column production host platform, a subsea system featuring six drill centers, 15 producing wells, and five water injection wells.
The platform and the Appomattox and Vicksburg fields will be owned by Shell (79%) and Nexen Petroleum Offshore U.S.A. Inc. (21%), a wholly owned subsidiary of CNOOC Ltd.
Production is expected to begin by the end of 2019. At peak it should produce 175,000 boe/d.
According to Shell, the Appomattox project will cost 30% less than originally expected when sanctioned.
BP is also advancing its re-engineered Mad Dog Phase 2 project, which calls for a new semisubmersible floating production platform in the Green Canyon area about 6 mi (10 km) southwest of the existing Mad Dog platform, which is in 4,500 ft (1,372 m) of water about 190 mi (306 km) south of New Orleans. Production is expected to begin in late 2021 and be profitable at or below current oil prices.
BP has let a number of contracts related to project development. Samsung Heavy Industries (SHI) won a $1.27-billion contract to build the floating production unit; and SHI awarded Wood plc (then Wood Group) an $80-million contract to provide detailed engineering and procurement services for the topsides.
OneSubsea won an engineering, procurement, and construction contract to supply the subsea production system, including subsea manifolds, trees, control system, single and multi-phase meters, water analysis sensors, and intervention tooling.
Subsea 7 received an engineering, procurement, construction, and installation contract for subsea controls, flexible risers, pipeline systems, umbilicals, and associated subsea architecture. In addition, Subsea 7 has contracted InterMoor to provide mooring and wet tow services for the semisub production platform.
Nexans will supply static and dynamic umbilicals and accessories that will be deployed in water depths from about 1,280 m to 2,160 m (4,200 ft to 7,100 ft), to connect the field to the floating production unit. The scope of work includes three different umbilical designs integrating hydraulic, data, and fiber-optic services.
Deepwater opportunities
Meanwhile, the effects of the downturn continue to play out as operators sell off their ownership interests in certain deepwater fields, to increase their liquidity. And, other operators and developers are taking advantage of the opportunity.
One example is the deepwater Shenandoah discovery, which was discovered in 2009 with Anadarko Petroleum Corp. as the operator. Six wells with multiple side tracks have been drilled since the initial discovery. In April it was announced that LLOG Exploration Offshore L.L.C. had been named operator of the deepwater Shenandoah discovery in the Gulf of Mexico.
Affiliates of LLOG, Navitas Petroleum US, and Beacon Offshore Energy have agreed to acquire a 70% working interest in the Shenandoah unit covering Walker Ridge blocks 51, 52, and the north half of 53 in the deepwater GoM. Venari Resources LLC will increase its working interest from 17% to 30%.
Scott Gutterman, LLOG's president and CEO, said: "We envision a multi-well, multi-stage development, including a new floating production system…Our strong track record of success should allow us to efficiently develop this 100- to 400-MMboe discovery and add significant value to all of our partners."
LLOG has submitted a request for suspension of production (SOP) with the Bureau of Safety and Environmental Enforcement. The transaction outlined above is contingent upon government approval of the assignments of interests and the SOP.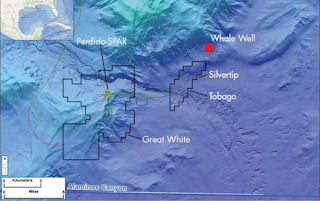 Above: Shell has described its deepwater Whale discovery, located in Alaminos Canyon block 772, as one of its largest US Gulf of Mexico exploration finds in the past decade. (Courtesy Shell) Below: The Ballymore prospect, located in the Mississippi Canyon area about three miles from Chevron's Blind Faith platform, has been described as a "major" oil discovery. (Courtesy Total)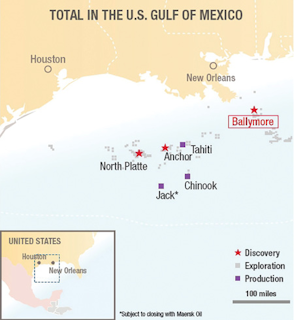 A second example can be seen in Total's acquisition of assets in the Gulf as part of Cobalt International Energy's bankruptcy auction sale. Total submitted offers on several assets for a consideration of about $300 million and has acquired from Cobalt:
• A 20% interest in the North Platte discovery. As a result, Total increases its interest to 60% and becomes operator of this discovery. Total will have Statoil as a partner, who acquired the remaining 40%.
• A 20% interest in the Anchor discovery. As a result, Total increases its interest to 32.5%, after having acquired 12.5% last December. This discovery is operated by Chevron with 55%. Venari holds the remaining 12.5%. Discovered in 2014, Anchor is also located in the Wilcox play, 225 km (140 mi) offshore Louisiana in approximately 1,500 m (4,921 ft) of water.
• 13 offshore exploration blocks, which will be operated by Total.
The United States Bankruptcy Court approved these results on April 5, 2018.
Discovered in 2012 by Total and Cobalt in the Wilcox play, North Platte covers four blocks of the Garden Banks area, 275 km (171 mi) offshore in about 1,300 m (4,265 ft) of water. The field is now fully appraised with a total of three wells and three side tracks.
Arnaud Breuillac, president Exploration & Production at Total, said: "We will now develop the North Platte discovery, looking for the most efficient scheme in terms of development cost."
Fieldwood Energy LLC has acquired all of Noble Energy Inc.'s deepwater oil and gas assets in the Gulf of Mexico. The acquisition was a key component of Fieldwood's restructuring and recapitalization plan, which was confirmed recently by the Bankruptcy Court for the Southern District of Texas.
CEO Matt McCarroll said: "This acquisition adds quality producing assets to our existing portfolio, provides us with numerous deepwater drilling opportunities and enhances our position as one of the largest operators in the Gulf of Mexico. With a strengthened balance sheet, substantially more cash flow and the new, talented deepwater operating team, we are well positioned to capitalize on future opportunities while executing our safe and efficient operations strategy to create long-term value."
New business models
Operators, contractors and service firms are developing new business models as a way to lower costs and keep projects moving forward. At the recent Offshore Technology Conference in Houston, W&T Offshore Inc. and Baker Hughes, a GE company, announced a strategic partnership related to W&T's joint exploration and development program in the Gulf of Mexico.
The project uses a commercial model that consolidates BHGE engineering, products, and services expertise to reduce total project costs and time to first production. The field development agreement will leverage BHGE's portfolio to improve execution efficiency, reduce risk, and incentivize performance through shared objectives.
The partnership is part of W&T's joint exploration and development program among a group of investors to drill up to 14 specified projects in the Gulf of Mexico over the next three years.
BHGE will provide drilling and evaluation, completions and well intervention, and pressure pumping services. It will also supply wellhead systems, subsea production systems which includes subsea trees, controls and associated subsea connection systems. Surface wellheads and production equipment, as well as the associated installation tooling and services will also be provided from the oilfield equipment product company.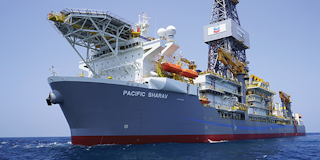 The Ballymore discovery well was drilled by the deepwater drillshipPacific Sharav. (Courtesy Pacific Drilling)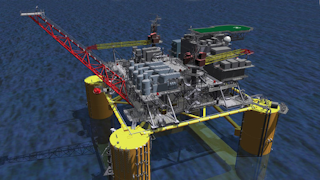 Shell's Vito project will include a semisubmersible host facility and eight subsea wells with deep (18,000 ft) in-well gas lift. (Courtesy Shell)
"This partnership with BHGE is the type of collaborative arrangement that is enabling renewed activity in the Gulf of Mexico," said Tracy Krohn, chairman and CEO of W&T. "By partnering closely with BHGE we are locking in service reliability and ensuring access to the broadest selection of equipment and services and advanced industry technology."
Kevin Wetherington, president of BHGE North America, said: "W&T was looking for a partner to help drive down the total cost of development. BHGE's unique and flexible offering helps to consolidate engineering, products, and services through one provider while leveraging the full technology and services leadership to meet their objectives. W&T has a long track record of success in the Gulf of Mexico and we expect this partnership to accelerate the continuation of that success."
New technologies needed
While oil and gas production in the Gulf of Mexico is expected to reach record levels in 2018 and 2019, the industry's need for new technologies is growing as well, particularly for the ultra-deepwater, high-pressure reservoirs that are being examined for near-term development. In fact, production levels in the Gulf may begin to decline after 2019 if these ultra-high pressure reservoirs are not developed.
That analysis was offered by William Turner, Senior Research Analyst, Gulf of Mexico with Wood Mackenzie at the recent Offshore Technology Conference. Ultra-high pressure reservoirs are defined as having an operating pressure of up to 20,000 psi.
New "cutting-edge" technology will be needed for developing these ultra-high pressure reservoirs, but Turner noted that the industry is not there yet. Advances in well completion systems and high-integrity pressure protection systems will be needed to access these ultra-high-pressure reservoirs. "The technology is not quite there for 20,000 psi, but it should be there soon," he said.
It is estimated that 2.3 Bboe are available in ultra-high pressure reservoirs, including deepwater fields such as Anchor, Tigris, Shenandoah, North Platte, and Kaskida. Turner noted the role of Chevron as a leader in ultra-high pressure reservoir development, and said that the company's Anchor and Tigris fields "will pave the way."
Turner said that there would be "up to four new floating production systems installed in the GoM over the next few years," relating to ultra-high pressure reservoir development. Subsea tiebacks, while a useful, capex-friendly strategy for brownfield development, will not by themselves prevent the decline, he commented.
Well control rule
Meanwhile, the Bureau of Safety and Environmental Enforcement (BSEE) is proposing to update regulations covering offshore oil and gas drilling to improve reliability, safety, efficiency, and environmental stewardship, and reduce unnecessary burdens on operators.
BSEE reviewed the existing regulations in response to executive and secretary's orders instructing it to identify ways to reduce unnecessary regulatory burdens while ensuring that offshore oil and gas drilling operations are conducted in a safe and environmentally responsible manner.
The Proposed Blowout Preventer Systems and Well Control Rule was submitted to the Federal Register on Friday, April 27, 2018, for publication the following week to open the 60-day public comment period.
"Using innovation and best science to increase safety and reliability, BSEE took a careful and deliberate approach to reduce unnecessary regulatory burdens," said BSEE Director Scott Angelle. "These reform efforts are part of the Trump administration's push for smart and safe energy development. We'll continue to work to do our job smarter and to ensure industry is exploring and operating safely."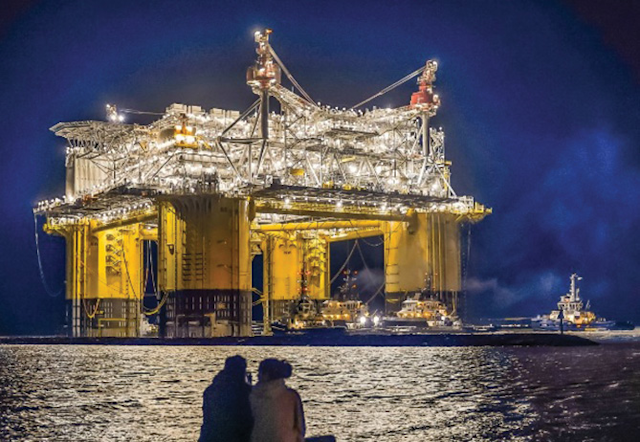 The Appomattox semisubmersible production platform has departed Ingleside, Texas, and is on its way to its Mississippi Canyon location in the Gulf of Mexico. (Courtesy Shell)
BSEE says that its team of career engineers and regulatory specialists reviewed the rule over the past year and identified certain provisions that were overly burdensome, unclear, impractical, and have, through their implementation, required the bureau to repeatedly grant permission to use alternate procedures or equipment. The team also identified additional long-standing policies that could be incorporated into the regulations.
"BSEE's approach to this regulatory reform was to make proposals that would carefully remove unnecessary burdens, while leaving critical safety provisions intact and, in fact, make drilling operations on the outer continental shelf smarter and safer," Angelle said.
In keeping with the relevant executive and secretary's orders, BSEE analyzed all 342 provisions of the 2016 Well Control Final Rule and determined that 59 of those provisions – less than 18% of the 2016 Rule – were appropriate for proposed updating and revision.
The BSEE says it compared each of the proposed changes to the 424 recommendations arising from 26 separate reports from 14 different organizations developed in the wake of – and in response to – the Macondo oil spill. This review process had the team conduct 78,440 specific analyses. The team determined that none of the proposed rule changes would ignore or contradict any of those recommendations, or would alter any provision of the 2016 Well Control Final Rule in a way that would make the result inconsistent with those recommendations.
Further, the BSEE said that nothing in this proposed rule would alter any elements of other rules promulgated since the Macondo oil spill, including the Drilling Safety Rule (Oct. 2010), SEMS I (Oct. 2010), and SEMS II (April 2013).
"The result of this analysis is proof that our regulatory reform efforts continue to be careful, tailored, and balanced," stated Angelle. "We have been successful in developing a solid set of proposed revisions. We look forward to the public comment dialogue and to providing America with smart regulations that ensure safe exploration for America's energy future."
The proposed revisions would amend the testing protocol for blowout preventers, modify capability requirements for remotely operated vehicles, remove duplicative verification requirements, and codify recent revisions to industry standards. Codification of a standard lends it the strength of an enforceable regulation.
The revised rule is being published as a proposed rulemaking. The public comment period will be open for 60 days. The interested public may submit comments at https://www.regulations.gov.
NOIA President Randall Luthi issued the following statement: "NOIA applauds the Bureau of Safety and Environmental Enforcement's proposed revisions to the well control rule (WCR). As written, the existing rule is flawed with technical deficiencies and ambiguities that detract from safe operations. BSEE's proposed revisions to the WCR will enhance safety and decrease risk offshore.
"Safety and drilling experts from NOIA and other industry groups recommended changes to the existing rule that are supported by the latest technology, improve clarity, add certainty, increase efficiency and enhance offshore safety. BSEE's proposed revisions to the WCR do not, in any way, constitute a rollback in offshore safety.
"The 60-day comment period for the proposed rule is appreciated and provides an additional opportunity for industry experts to address provisions that may increase risk or reduce safety. As we digest the details of the proposed rule, NOIA and our members look forward to offering constructive feedback to the BSEE.
"Finally, this rule making exemplifies why regulations are best left to regulating agencies as opposed to making regulations by statute. Particularly in the offshore energy industry, technology and standards are continually being upgraded and it is unlikely that Congress would revise a standard or regulation often enough to keep pace with technology and maintain the highest in safety measures."