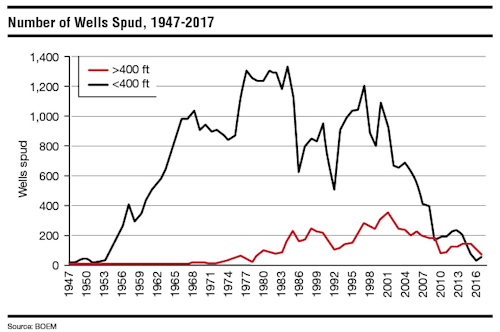 Deepwater drills exceed shallow-water spuds in recent years
Mark J. Kaiser
Center for Energy Studies
Louisiana State University
About 53,000 wells have been drilled in the US Gulf of Mexico (GoM) over the last 70 years. Activity levels provide useful information on trends and future prospects along with the efficiency of exploration and development, and future production levels.
In this five-part series on GoM well activity, shallow-water and deepwater inventories, activity and trends for exploration and development (Part 2), abandonment (Part 3), producing and idle wells (Part 4), and subsea completions (Part 5) will be reviewed. Part 1 begins with total wells spud through 2017.
Shallow water is defined by water depth less than 400 ft (122 m) and deepwater by water depth greater than 400 ft.
A total of 52,964 wells have been drilled in the GoM through 2017: 46,126 wells (87%) in water depth less than 400 ft and 6,838 wells (13%) in water depth more than 400 ft. Well counts include all wellbores drilled, exploration and development, including side tracks, as well as geologic and stratigraphic wells.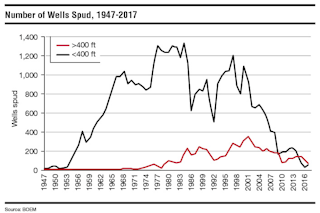 Well type
Exploration and development wells are used to find commercial accumulations of hydrocarbons and develop them and are the most well-known and common well classifications. Geologic and stratigraphic wells are drilled for general scientific purposes, not to test a specific prospect or play, and numbering only a few dozen can be grouped with other well classes or simply ignored in well counts.
A side track is a new section of wellbore drilled from an existing well. Side tracks are drilled when problems in drilling arise or to access a different area of the reservoir when the original wellbore ceases to produce. Side tracks arise in both exploration and development activity and it is important to distinguish side tracks from original wellbores in well counts, particularly development wells and permanent abandonments, where confusion often arises in describing activity levels and spending estimates.
Side track wells do not incur the full cost of drilling since they require less drilled footage and are often drilled with a smaller rig. In addition, even though they are counted as one wellbore in official statistics, in many cases they can be considered 'one-third' or even 'one-quarter' of a well in terms of cost and footage.
Activity trends
The number of wells spud in shallow water peaked during the decade from 1976-1985, when more than 1,200 wells were drilled annually, reaching a maximum of 1,321 wells in 1984, the most wells ever drilled in the GoM in a single year.
In the mid-1990s and 2000, 1,000+ wells per year were achieved occasionally. However, in subsequent years the number of shallow-water wells spudded has dropped significantly, hovering around 200 wells per year from 2009-2014 before declining to new lows. In 2014, 194 wells were spud, 70 in 2015, 26 in 2016, and 39 in 2017.
Deepwater drilling started in the late 1960s and by the mid-1980s reached 200 wells per year. Deepwater drilling activity is much smaller than in shallow water in terms of the number of wells, and less volatile from year-to-year, historically ranging between 100 to 300 wells per year. In terms of drilled footage, deepwater wells are greater than shallow wells on average, and in terms of cost, deepwater wells are typically an order-of-magnitude greater than shallow-water wells.
In 2014, 135 deepwater wells were spud, 139 in 2015, 101 in 2016, and 60 in 2017. In the last three years, more deepwater wells have been spud each year than in shallow water. •