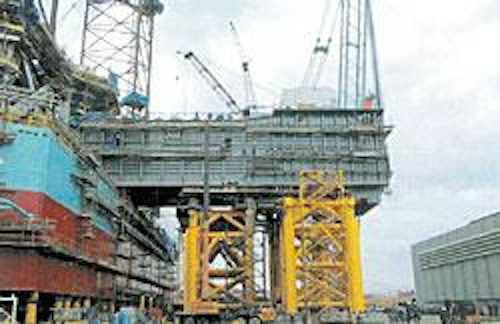 The market for low-spec jackups in the North Sea is under pressure as opera-tors cut back on drilling activities within traditional jackup territory. New proj-ects are being introduced, but these are increasingly subsea or outside traditional jack-up depth.
Drilling contractors committed to this sector are responding with new heavy-duty, multi-purpose jackups. The most versatile may prove to be the twin rigs under construction in Korea for Mærsk Contractors. These will be able to switch between well abandonment, high pressure/high temperature (HP/HT) well drilling, subsea development drilling, and intervention in water depths normally reserved for semis. Mærsk claims the jackups will be suitable for 85% of UK and 55% of Norwegian subsea wells.
One of the rigs, completed this summer and shortly due to arrive for a four-week final commissioning program in Stavanger, Norway, already has an assignment for TotalFinaElf in the Norwegian sector. The Mærsk XLI will plug and abandon 15 wells drilled from the Frigg DP2 platform.
Hyundai is due to deliver the second jackup next spring. Both rigs are based on Marine Structure Consultants' MSC CJ70-150 MC concept. Some of their advanced features derive from the North Sea operating experience of another heavy-duty jackup, the Mærsk Gallant, also designed by MSC. The new jackups have been designed for year-round service in harsh environments and in water depths to 150 m, the latter made possible through 205-m legs and spud cans fitted with skirts. The high-capacity leg fixation system provides resistance to sliding and scouring and is designed to accommodate variable loads up to just over 10,000 tons, pending seabed conditions, which is more than twice the operating threshold of existing harsh environment jackups, Mærsk says. The 2,500-sq-m open deck area is intended to make good use of the load-bearing capability.
Automated pipe-handling
Rig floor equipment includes a fully automated pipe-handling system with two tubular assembly lines. While one string is working its way through the well bore, a second string (drillstring, casing, test instruments, or bottom hole assembly) can be made up for subsequent transfer to the setback area or the well, thus reducing a large portion of non-productive time. The 64 x 14 x 16-m derrick allows drillpipe to be racked in stands of four joints (up to 30,000 ft in total), while, simultaneously, up to 18,000 ft of casing can be racked in three-joint stands.
Beneath the rig floor, an 18 3/4-in., 15,000-psi single stack BOP system and associated equipment are housed in an enclosed cellar deck. This would normally be deployed in surface mode, but can also be used as a subsea BOP for drilling or intervention in water depths to 150 m. Also below deck, the pump room includes three 7,500-psi, 2,200-hp mud pumps and one auxiliary 5,000-psi, 800 hp mud pump for mud shearing and drill cuttings reinjection.
Another new feature is MSC's XY box cantilever system, which has a maximum allowable drilling load of 1,400 tons and provides a 90 x 60 ft drilling envelope. This is twice that of a traditional jackup, according to Per Wulff of Mærsk Contractors. The combined drillfloor and cantilever is designed to be skidded as a self contained unit, hence the traditional skidding substructure for the drill floor is eliminated. The skidding operation can be performed with tubulars in the derrick.
In addition, some equipment is located inside the cantilever box to free up deck space. Mærsk says the unoccupied deck area of 2,500 sq m is more than twice that of other harsh environment jackups. The layout also allows for coiled tubing intervention to be performed from the cantilever cellar deck area simultaneously with normal drilling and rig floor operations. The cantilever also contains the solids treatment room, which accommodates the shale shakers, centrifuges, and a slurrification system. Prod-uced solids can be either slurrified and injected, or despatched to land for further treatment. The large liquid mud storage capacity of the rig further allows for easy switching between mud and completion fluids in a so-called hot-swap operation.
There are two engine rooms housing the four main engines, which generate 11 Mw of combined power, plus a 2-Mw emergency generator. Accommodation for 120 crew members has been placed in one of two connecting sections around the rig's forward leg, the other containing 14 offices and recreation rooms. Rig floor operations are conducted by up to three people in the drillers' cabin and can be monitored from the office block or a shore-based location.
Load tests
Prior to the 55-day voyage to Europe via the Cape of Good Hope on the Dockwise Heavy Lift Vessel Mighty Servant I, the Mærsk XLI underwent commissioning tests in Korea that included a full-height jacking trial as well as a load test with the cantilever fully laden. The completed jackup measures 272 m, including the legs, with a hull width of 102.5 m and a depth of 12 m.
Mærsk has trained five groups of maintenance engineers, platform managers, engine room crew, and drillfloor technicians at its training center in Svendborg, Denmark. One of the training simulators, for the Varco integrated control and instrumentation systems, is in a relocatable, 20-ft container that can be shipped to the rig for top-up training. It includes a single-board computer with all programs for the pipe handling tools – a completely new facility for Mærsk's drillfloor personnel.
Mærsk says the new rigs will reduce non-productive time by 27% compared to other heavy duty jackups through the innovative design, dual activity equipment, and redundancy features. This equates to a saving of about 10 days on typical wells drilled in the North Sea.
Frigg abandonment
According to Wulff, the Frigg well abandonment program can only be performed with the new jackup.
"We alone have the water depth and reach to access all of the field's wells," he said. "In the UK North Sea, and to an extent in the Norwegian sector also, a lot of drilling equipment on the older platform rigs is obsolete. Installing new rigs on these platforms can be very expensive. Some contractors offer to skid drilling packages onto old platforms, but these may not be able to take the load. With our new rigs, we can go in over the platforms in cantilever mode and reach all well slots without applying any weight to the platform itself. We can do this because our drilling envelope is twice that of a typical jackup."
Mærsk is in discussions with several major oil companies about use of the new jackups for drilling HP/HT subsea wells, and also for service in the ultra-harsh waters West-of-Shetland, where semisubmersibles have encountered operating problems. The rigs' abandonment role could be extended to removal of topsides packages weighing up to 2,000 tons.
"I believe we will get one rig on either side of the UK/Norwegian median line. There are more suitable projects currently on the UK side, but on the other hand, there are 28 jackups active in the UK, against only one in Norway. However, these larger jackups won't be idle. It's more a case of the lower range being phased out of the market." Mærsk is also looking at opportunities off eastern Canada, particularly around Nova Scotia.
Mærsk Contractors' other newbuilding project – the Caspian Sea's first purpose-built deepwater semisubmersible – is past the halfway point, and a little ahead of schedule. Main construction contracts were issued in February last year, and the rig should be complete during the second part of 2003.
Deepwater campaigns
The DSS 20-CAS M is also an MSC design, and will be capable of drilling in up to 1,000 m of water, the approximate maximum depth for the Caspian. Two operators with Azeri sector production sharing agreements (PSAs) have contracted the rig for deepwater campaigns starting in 2004. These are ExxonMobil, for the Nakchivan and Zafar-Mashal PSAs, and ChevronTexaco, for the Absheron PSA.
"We're looking at a three-year contract, plus options," says Gregers Kudsk, Mærsk Contrac-tors' vice president for engineering and projects. Both operators also provided input to the rig's specifications.
Keppel FELS in Singapore has already completed the semi's four columns, two pontoons, two horizontal braces for the lower part of the columns, and the drillfloor substructure. The 2,200-ton pontoons were transported to the Black Sea earlier this year on the Dockwise heavy lift vessel Tern, with the cargoship Wilma bearing the 400-ton columns, braces, and 305-ton substructure. On arrival, these were shipped to Baku via the Don/Volga canal system. The pontoons were floated through on their own keel, while the other components sailed in on river barges. Other smaller equipment items, such as the Wirth mud pumps, have been making it across through the Black Sea, or overland in containers mounted on trucks and trains.
Caspian Shipyard Co. in Baku, a joint venture of Keppel FELS and state oil company Socar, is receiving and assembling the sections. It is also responsible for fabricating, installing and commissioning the topsides. About 70% of the rig will be built in Baku.
The completed rig's dimensions will include an overall length of 94.75 m and an overall width of 90 m, with an operating displacement of 30,000 tons. Other details include 8.63-m high, 14-m wide pontoons, 12.5 by 14-m columns and a 63.5 by 64.5-m main deck.
"This is larger than a traditional Friede & Goldman deepwater semi," Kudsk says, and similar in size to the GVA deepwater semi also under construction for the Iranian sector of the Caspian.
Conditions in the Azeri mid-depth to deepwater sector are close to those in the Mediterranean Sea, he adds. The rig is equipped with eight large traction winches on the upper deck supplemented by large capacity storage winches located in the pontoons. It is rigged with an eight-point, 3-in. diameter wire rope mooring system with 12-ton anchors in water depths to 500 m. Beyond that, pre-set mooring spreads will be adopted.
The new semi will have a 4,000-ton variable deck load capacity; a 750-ton top drive; a 55-m derrick, crown and travelling block rated at 2 million lb, similarly rated riser tensioners, and as with the jackups, an 18 3/4-in., 15,000-psi BOP, three 7,500-psi, 2,200-hp mud pumps and four engines providing 11 Mw of power. There will also be three onboard cranes. The semi is designed for drilling in wind speeds of up to 23 m/sec, waves up to 12.3 m high, a wave period of 9.9 sec and a surface current of up to 0.7 m/sec.