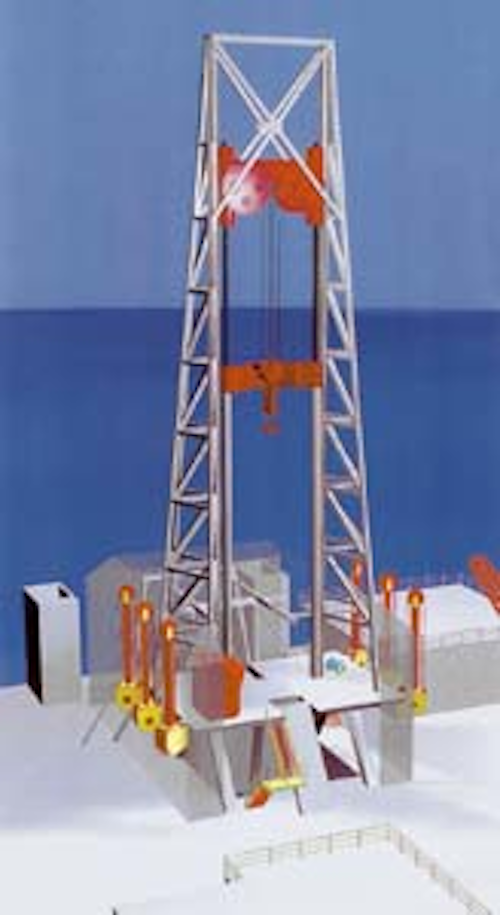 Nick Terdre
Contributing Editor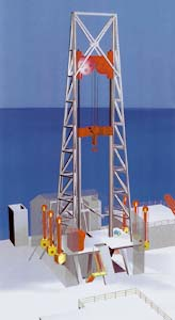 RamRig, Maritime Hydraulics' light drilling rig, is expected to figure prominently in deep-water operations.
Norway's advance into deeper waters has necessitated a re-think about the prime cost areas, particularly drilling and well intervention. The R&D effort is now bearing fruit in the shape of new rig concepts for both drilling and completion/intervention, and new down-hole technologies.
An important reference point for such work is Statoil/Saga's massive Aasgard project off mid Norway, which involves some 60 wells on three different fields in water depths of around 300 meters. Compared with fields like Statfjord and Gullfaks, with their platform-based wellheads and high well availability, the
Aasgard wells will all be subsea-completed, and achieving good individual well productivity will be important to the success of the project.
Hiring a high-spec rig to take care of well maintenance would entail paying a day-rate well in excess of $100,000 under current market conditions. Instead Statoil has designed a dedicated well completion and maintenance vessel which it plans to employ full-time on Aasgard. In line with current thinking, it will be built, owned and operated by a contractor - Statoil has awarded Smedvig a five-year agreement, with two years' options, to provide completion and intervention services using the vessel. The cost of building the vessel has turned out to be somewhat closer to NKr 700 million than the $500 million benchmark assumed by Statoil. But the project is still economic - the NKr 1 billion which Statoil is paying Smedvig for the five firm years of its contract is equivalent to a day-rate of around $85,000, which is considerably less than the cost of hiring a conventional semisub to do the same job.
The vessel, which has been designed in conjunction with naval architects Kverndokk and Eldoey, is a novel one, paradoxically drawing on the small water-plane area twin hull (SWATH) concept developed for high-speed craft. The engineering objective, according to Thor Viggo Aarrestad, chief engineer in the drilling and well technology division, was to develop a design combining the motion characteristics of a semisub with the deck-load capacity of a monohull. The main challenges involved minimizing the steel weight, avoiding slamming, and achieving a topside arrangement permitting efficient operations including the simultaneous performance of different activities in parallel. These aims have largely been achieved, says Aarrestad. The SWATH vessel, which has box-like pontoons similar to those on a traditional semisub, compares well in terms of stability, sea-keeping and load-carrying characteristics with a fourth generation rig. It will be equipped with dynamic positioning, to allow it to move swiftly from one location to another, thus saving on the cost and time of setting and pulling mooring lines.
"We think we've achieved a 36% cost reduction for SWATH completions compared with an anchored rig, and 50% for workovers," says Aarrestad. If the rig had been available to work on Aasgard right from the beginning, it would potentially have saved $100 million in operational costs in the first five years. If it were dedicated to the Gullfaks satellites, it could reduce life-time costs by $45 million. The concept can be extended to include a drilling capability in the shape of a light drilling rig. The light drilling rig is a key concept in reducing the cost of deepwater operations, and the only product which is immediately available to the market is Maritime Hydraulic's RamRig. In fact work on developing the RamRig concept began back in 1987, and the concept offers cost and time savings in general; but it has taken the advance into deep waters to create an actual demand for the product.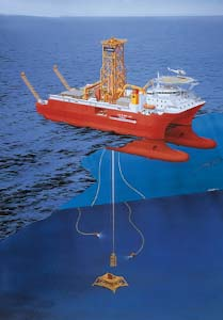 Statoil's SWATH concept combines a semisub's motion characteristics with a monohull's deck load capacity.
The first RamRig order, worth NKr 60 million, is for Reading & Bates' semisub Iolair, which is being converted into a well intervention vessel for use on BP's Foinaven field, west of the Shetlands, where it will work in water depths of 500 meters and more. The 400-ton unit is due for delivery late this year.
Further recognition for the RamRig came with the ASME award for the best mechanical engineering achievement at OTC this year.
The RamRig has been designed from the bottom up with the specific requirements of the offshore market in mind. The main elements, which differ somewhat from the conventional rig design, comprise rams, traveling yoke, hoist lines, equalizer assembly, ram-guide, top drive and hydraulic system.
Compared with current rigs, it is simpler, safer, lighter and less expensive, but as or more effective in terms of drilling performance, according to Per Vatne, senior consultant at MH. A weight comparison of a RamRig with a conventional floater rig indicated a total RamRig weight of 909.7 tons, a substantial saving of 441.2 tons. MH has also calculated that when deployed on drilling a typical exploration well, the time saving for RamRig compared with a conventional rig would be eight days, equivalent to 9%, for a well in 200 meters of water, and 14 days, or 14%, for a well in 1,500 meters.
Capex savings are of the order of 10-20%, and opex savings 10-15% on floaters, and 10% on platforms, according to Vatne.
MH is now discussing further orders with a number of potential customers, including Statoil for the SWATH vessel, Norsk Hydro for the Oseberg East platform, and a Norwegian drilling contractor considering building a new semisub.
It will also be providing a RamRig unit to be installed on Dolphin's Bideford Dolphin semisub, which recently won a seven-year contract from Saga. The rig, which has been fixed for a day-rate of $90,000-100,000, will initially be used for drilling and completing development wells on Saga's Snorre, Tordis, and Vigdis Fields in the North Sea. But at a later stage, Saga is expected to use the rig for deepwater exploration drilling off mid Norway. This will represent the culmination of its EfEx - efficient exploration - project, which seeks to reduce the costs of such drilling by using a modified second generation rig equipped with a RamRig.
The Bideford Dolphin, which has been laid up for 10 years, will undergo extensive modifications, including the replacement of most of the topside facilities. For its work in the North Sea it will be equipped to drill in 450 meters water depth, but this capability is expected to be raised to 1,500 meters when it moves to the waters off mid Norway.
EfEx brings together the benefits of both a light drilling package and slender hole drilling. Slender holes enable the main drilling objectives to be achieved - acquiring formation data, retrieving cores, and testing - while drastically reducing the volume of consumables required. The cost of an EfEx well would be a little over half that of an equivalent well drilled by a fourth generation rig, Saga has calculated. The company is also developing the concept of a multipurpose vessel capable of performing both light well intervention and doubling as a supply boat. A newbuild semisubmersible drilling rig - the first new unit since the late 1980s, as far as is known - is also likely to have a deepwater capability. The fifth generation rig will be owned by Deep Sea, a joint venture led by Odfjell Drilling Group as the main shareholder and a number of investors. Built to a Bingo 8000 design, the rig will be equipped with a DP system for drilling in water depths of up to 2,000 meters, while its eight-point mooring system will be usable in depths of up to 1,200 meters.
A baredeck version of the rig is now being fabricated at the Kvaerner Rosenberg yard in Stavanger under a contract worth a little less than NKr 300 million. The hull incorporates pontoons built for a previous rig which never saw the light of day. Construction of the topsides equipment, for which Kvaerner has an option in its contract, will only proceed once a long-term contract is secured. The content of the drilling package will then be decided taking into account the client's needs. Among the possibilities are equipping the rig with twin derricks and rotary tables to give it a multi-functional operation, according to Brynjulf Kristiansen, marketing manager for Odfjell Drilling Stavanger. This should make it possible to speed up operations considerably, as work will be able to proceed on two wells at the same time.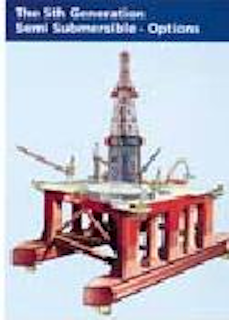 Deep Sea's newbuild semisub will be able to drill in water depths up to 2,000 meters.
The well tractor is a development aimed at reducing the cost of extended reach and subsea wells, and which is therefore expected to make a significant contribution to the economy of deepwater production.
Such wells have made it possible to produce difficult reservoirs by tapping several productive zones, according to Statoil's Thor Viggo Aarrestad. However, working downhole in them is not easy as they tend to twist and turn in order to achieve an optimal trajectory through the reservoir. The use of light intervention methods has not been possible in the past due to the large drag force created when running out in the horizontal section. The well tractor provides a means of pulling the drill string and tools down the well. A torpedo-shaped object with wheels which engage with the floor and sides of the borehole, it is driven by an electric motor to which power is supplied by cable. In two offshore tests, it was used to run a logging tool in a water injection well and an oil production well. In both cases it clocked up a total running time of eight hours, in one well traversing an accumulated distance of 5,300 meters. It operated well in bottom-hole temperatures of up to 93 C and pressures of up to 430 bar.
Compared with the conventional method of performing logging on the drill-pipe, the tractor saved two days on each operation. Potential savings on rig costs are calculated at $7 million a year, Aarestad says, without taking into account the additional well uptime the tractor creates.
Copyright 1996 Offshore. All Rights Reserved.