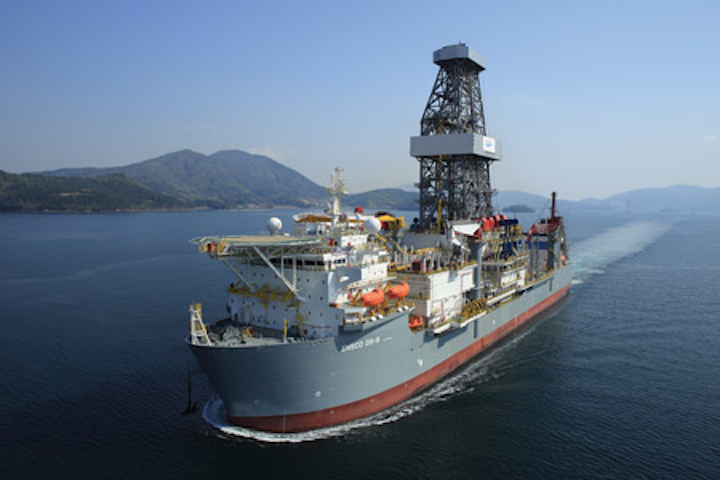 Bruce Beaubouef
Managing Editor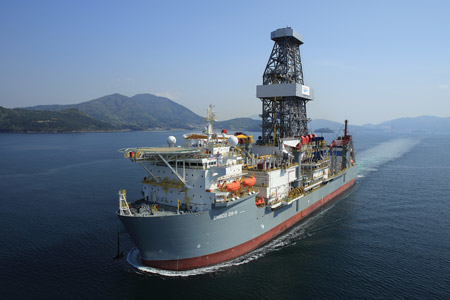 TheENSCO DS-9 has departed South Korea and is in Singapore undergoing customer-specific enhancements for its three-year contract with ConocoPhillips in the US Gulf of Mexico in 4Q 2015. (Courtesy Ensco)
Drillship usage remains strong despite slowdown
Falling oil prices have begun to have a negative impact on drilling activities in the Gulf of Mexico. While the lower oil price environment has been impacting the oil and gas industry in general since last July, it is only recently that offshore drilling activities in the GoM have begun to decline.
In March, the GoM floating rig fleet averaged about 48 contracted units, not far from the high of 52 achieved in December 2014, according to IHS Petrodata. While this number slowly crept up in 2014, so far this year, it has reversed trend and slowly crept down as rigs roll off contract without new jobs in hand.
For jackups, semis and drillships, the contracted rig count fell from 69 in January to 60 in April. Contracted backlog in terms of time booked has been dropping as rigs continue to roll off contract and not find immediate work. And this is true in both the jackup market and the floating rig market, says Cinnamon Odell, Senior Analyst-Rigs with IHS Petrodata. Shallow-water drilling is especially feeling the effect. "As of mid-April, only 7.1% of available jackup time for the remainder of this year is booked," Odell toldOffshore. Available time would exclude any days already set aside by rig contractors for surveys, inspections, or other reasons.
TheNoble Sam Croft has been operating in Green Canyon block 743 as part of Freeport McMoRan's program to drill seven wells at its Holstein Deep field. (Courtesy Noble Corp.)
Out of a marketed supply of 21 units, only 14 are contracted, and none of those contracts are for long term. Two jackups are committed until the end of September/beginning of October. All others are set to roll off contract before then. In addition, Rowan'sJoe Douglas jackup rig, which has been a part of the US Gulf fleet since its delivery in late 2011, is set to depart later this year for Trinidad & Tobago for a 150-day job starting in September. So while two-thirds of the active fleet currently have a job, these jobs are expected to run out in the near future. And with not many operators actively seeking rigs for jobs, competition is expected to be fierce for whatever demand does arise over the next few months.
While the data for the floating rigs looks far better than that of the jackups, it is important to note that these numbers are trending down also. "For semisubmersibles, just over 52% of the remaining days this year are booked, while the figure for drillships stands at 82.8%," Odell noted. Looking at the total backlog for each of these rig types, semis have about 217 rig months of work locked up. This is down from the previous IHS update, which was issued in November 2014 and showed about 314 rig months of work in the future. "This is attributed to very little new work coming to the market," she observed.
Meanwhile, drillships have the strongest showing with nearly 1,852 rig months of work currently booked. While no new drillships contracts for the region have been announced since the previous update, some units currently under construction that had not yet been assigned a region for work following their delivery have now been assigned to work in the GoM once construction is finished. "This adjustment gave a boost to the total current backlog for drillships, masking the fact that three ultra-deepwater drillships are currently idle and seeking work," Odell added.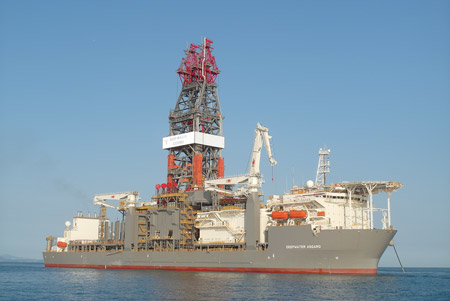 The TransoceanDeepwater Asgard drillship recently arrived in the US GoM to work under a two-year contract for Chevron. (Courtesy Transocean)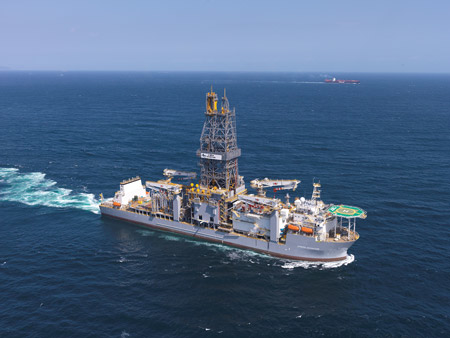 The drillshipAtwood Advantage recently conducted completion work on a couple of wells in the Dantzler field for Noble Energy. It will soon move to the Gunflint field, another Noble Energy project, for additional development work. (Courtesy Atwood Oceanics)
Operators' preference for drillships over semis in the Gulf is expected to be maintained as another six drillships are currently scheduled to begin mobilization from other regions sometime this year, while only one will be leaving. No semis are scheduled to be added to the region this year, but two units already in the area have upcoming contracts in place in other regions, and will depart later this year.
Contract cancellations
Two recent major rig cancellations in the Gulf - an area that had previously been thought to be a relative safe haven for drillers - are an ominous sign for near-term drilling in the region. In late March, BP terminated contracts for two deepwater oil drilling rigs in the GoM as part of its program to reduce its exploration costs in the wake of falling oil prices.
Offshore drilling contractor Ensco said it had received notice to terminate the BP-operated rigDS-4 in the GoM, and Seadrill Partners announced the same week that BP had also canceled a contract for the West Sirius ultra-deepwater (UDW) rig, which had been operating in the same region. Prior to the cancellation, BP had swapped day rates and contract lengths with the West Capricorn UDW rig, whose contract now extends to 2019.
With the West Sirius contract being canceled, Seadrill Partners will now have to cold stack one of its most modern and advanced rigs - at an estimated cost of $110,000 to $120,000 in maintenance costs per day - unless it can secure a new contract. In the case of Ensco's DS-4 UDW rig, the contractor will need to find new work for the rig after July or face the prospect of cold stacking it as well, analysts say.
BP confirmed the termination of both contracts, saying the rigs were "surplus to requirements following BP's adjustment of capital expenditures in response to the new, lower oil price environment."
Statoil reports that it has made an oil discovery in its Miocene Yeti prospect in Walker Ridge block 160 using theMaersk Developer drilling rig, a sixth-generation semisubmersible. (Courtesy Statoil)
The fact that BP would rather pay a reported $375 million in cancellation fees to these contractors rather than continue drilling means that the economics of drilling in the Gulf have changed dramatically in the past few months. Some analysts believe that these cancellations increase the risk that further contracts may get canceled or renegotiated. At the very least, a growing number of idle rigs in this region will likely cause day rates in the Gulf to fall further.
Previously, analysts had thought that even with falling oil prices, the deepwater GoM would be relatively strong as prior in-place contracts would have led to a flat rig count year-over-year. A flat rig count would have made the GoM the strongest region for offshore drilling in a down year. But with BP announcing the first two rig cancellations in the Gulf, it is further evidence that the region is not immune. Even so, analysts say that they have seen more cancellations in other parts of the world, and that the GoM should still relatively outperform the other offshore regions.
Ongoing work
Meanwhile, there are still a number of important drilling activities taking place in the Gulf. Chevron recently reported that the TransoceanDeepwater Asgard has arrived in the US GoM to work under a two-year contract. The dynamically positioned drillship is a Daewoo Shipbuilding DSME 12000 design. The ship is capable of drilling to a depth of 35,000 ft (10,668 m) and able to operate in moderate environments and water depths up to 10,000 ft (3,048 m). The Asgard is Chevron's sixth drillship in the deepwater US Gulf of Mexico, and began operations in the Mississippi Canyon area in April. Chevron says it remains committed to offshore exploration in the GoM, despite falling oil prices.
Elsewhere, Statoil reported in April that it had made an oil discovery in its Miocene Yeti prospect in Walker Ridge block 160 using theMaersk Developer drilling rig, a sixth-generation semisubmersible. The prospect is approximately 15 km (9 mi) south of the Big Foot field, and 11 km (7 mi) from the Cascade field. Statoil reported that its drilling efficiency with Yeti was among the best of any well drilled in Walker Ridge, achieving a rate of approximately 123 m (400 ft) per day. The rig has moved to drill on Statoil's Thorvald prospect in the Mississippi Canyon block 814.
With the current lower price environment, a number of operators are focusing their drilling efforts on existing and known fields. For example, Hess has chartered two ultra-deepwater drillships for its Stampede project's development program. The operator has signed multi-year contracts with Diamond Offshore for the newbuild drillshipsOcean BlackLionand Ocean BlackRhino. Ocean BlackLion, which has a four-year contract, is due for delivery from Hyundai Heavy Industries in the second quarter of this year. Following commissioning, mobilization, and acceptance testing, operations are expected to begin in the fourth quarter. Meanwhile, Ocean BlackRhino, which was delivered from the same shipyard late last year, is currently on its way to the US Gulf. However, it will first undertake a previously scheduled program with Murphy Oil before commencing operations with Hess under a three-year charter in 4Q 2016.
Some drilling work is also taking place as part of the development of Anadarko's Heidelberg project. The operator currently has the semi ENSCO 8506 conducting additional exploration drilling work in the field. The rig is contracted to Anadarko until July, but analysts believe it to be unlikely that the contract will be renewed. In addition, the newbuild drillshipRowan Resolute is also performing exploration work in the Heidelberg field. Operations under the ultra-deepwater rig's three-year maiden charter began in October 2014.
Anadarko is also continuing drilling activities on its Shenandoah discovery in the Walker Ridge area. The Diamond Offshore drillshipOcean BlackHawk drilled the recent 003 appraisal well, which turned up dry, but this comes after very promising results at the 002 well. That well found more than 1,000 ft (304 m) of net oil pay and no water contact.
As for future drilling plans for the field, Anadarko is reportedly seeking a drillship with a 20K BOP stack and has invited several drilling rig contractors to bid on the job. Interested rig contractors are understood to be in discussion with various shipyards regarding possible construction options. If the project goes forward, rig delivery would be in 2019, at the earliest.
On another project, Noble Energy has commenced drilling operations at two of its deepwater prospects, Dantzler and Big Bend, located in Mississippi Canyon blocks 782 and 698, respectively. The drillshipAtwood Advantage recently conducted completion work on a couple of wells in the Dantzler field. Next up, the rig will move to the Gunflint field (also being developed by Noble Energy) for additional development work. Noble recently indicated that first production from Big Bend is expected in 4Q 2015, to be followed by the Dantzler field by the end of the year, then Gunflint in mid-2016. Atwood Advantage is firmly committed to Noble until April 2017.
BHP Billiton is also looking to expand its existing Shenzi and Neptune fields in the deepwater Gulf. Newbuild Transocean drillshipDeepwater Invictusbegan a three-year program with BHP Billiton in mid-2014 and has already conducted development work on both projects.
Outlook
While there is still significant drilling activity taking place in the Gulf, the outlook for the next two years may be a bit bleak. Rigs due to roll off contract in 2015 are increasingly unlikely to find work here again this year, analysts say. The number of operators looking to secure rig time in 2015 has dropped considerably, and these are only sourcing rigs for one or two-well opportunities.
At present, the US GoM has 12 floating rigs that are either cold stacked and not being actively marketed for work, or hot stacked, which means idle and actively seeking work. With so many rigs around the world seeking work, including some recently delivered newbuilds and others that are nearing the end of construction, competition for any drilling project in the Gulf with a near-term start is expected to be intense. •