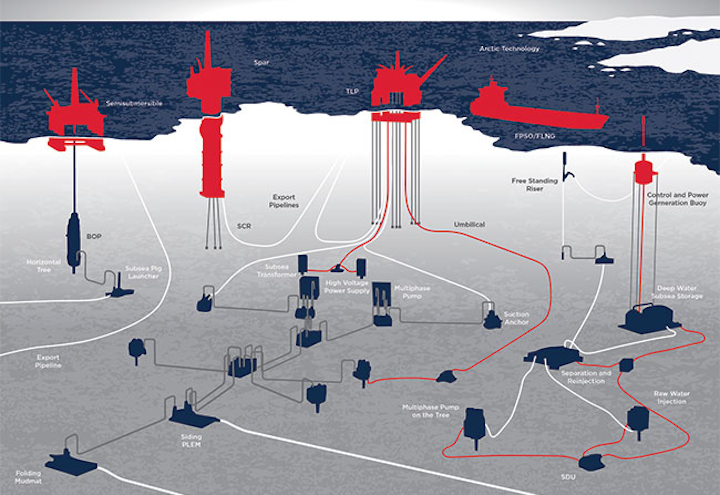 Although not required, component verification could prove valuable
Alan Yu•John Upchurch
ABS
The advantages of subsea systems have made subsea production a top choice for developments in many environments around the world. Innovations and improvements are being introduced that will increase the reliability and robustness of these systems, which will be used in even more developments over time. Clarksons' Research data show that as of February of this year, 629 fields were using subsea systems. Today, 21% of producing fields employ them.
According to analysts at Douglas-Westwood (DW), subsea tree installation activity will grow at an estimated 4% compounded annual growth rate over the 2017-2021 period. During that time, drilling and completion expenditure is expected to total $41.6 billion, accounting for 35% of capex. Estimates indicate subsea umbilicals, risers, and flowlines, subsea production equipment, and pipelines will represent a combined 38% of total expenditure. It is clear that this sector is expanding.
The oil and gas industry is using more effective equipment and is focusing on finding better and smarter ways of doing things. Streamlining operations and minimizing downtime are universal objectives, particularly for companies that are looking for ways to thrive in the current business environment. The effort expended to improve and enhance processes during this period of limited activity will be particularly valuable when the market rebounds and the industry resumes a higher level of activity.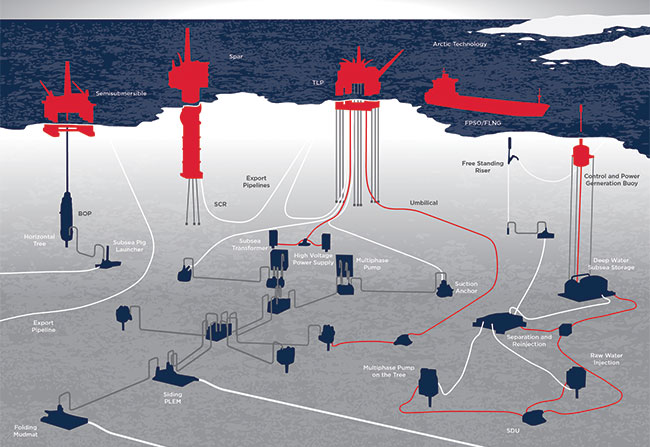 As the search progresses for value-added offerings, it could be worthwhile to evaluate what can be learned from vessel classification and how those lessons can be applied to the subsea sector. (All images courtesy ABS)
As the search progresses for value-added offerings, it could be worthwhile to evaluate what can be learned from vessel classification and how those lessons can be applied to the subsea sector.
Classification societies have provided third-party safety surveys and assessments for a very long time. In fact, the original members of the International Association of Classification Societies (IACS) can trace their history back more than 150 years. Classification Societies formed the IACS in 1939, which expanded over time to include the current 12 member organizations, which apply their expertise to promote safety in the marine industry.
Today, classification societies class ships, mobile offshore drilling units and many floating oil and gas production facilities. In some instances, when an owner determines not to class a unit, classification societies often provide third-party services, verifying that the asset meets certain applicable safety requirements.
Subsea components - including the riser, pipeline and subsea hardware systems physically connected to the production platforms - typically are not subject to the same process, but it might be valuable for subsea components to undergo verification following a similar process to that of the floaters to which they are attached.
Classification process
To determine whether the classification process would be beneficial, it is important to outline what classification entails at the process level. Class societies develop rules, guides, guidance notes and standards for the design and construction of vessels, offshore assets, and related equipment and machinery. They review designs and survey the assets during and after construction to verify compliance with the appropriate class rules. They assign class notation when the unit is verified as compliant and record that the unit is classed, and they issue renewable class certifications with annual endorsement for five years.
Vessel classification can be separated broadly into design and fabrication and operation and maintenance. They are generally built to class (and receive a class notation) and then undergo periodic survey and inspection by a society's surveyor to maintain class certification. While maintaining class may be required in different parts of the world for vessels, maintaining class of a permanently moored or stationed vessel is not required everywhere.
Subsea systems
Applying the classification process as it is followed for asset design, fabrication, and installation makes sense for subsea equipment. Following today's common practice, the operator performs internal reviews or for the Gulf of Mexico, chooses a design certified verification agent (CVA) from an engineering firm. Review work, especially CVA review, generally focuses on engineering and analysis. The fabrication and installation review and verification most often are performed by other contractors because design firms usually do not have an in-house survey and inspection system in place. This process places a premium on engineering a proper solution and can miss the fact that not all offshore problems are caused by engineering errors. Manufacturing, fabrication, and installation errors can play a part as well. Because different operators and contractors have different processes, the level and type of review and validation vary widely. And since multiple organizations are involved, the records for design, fabrication, and installation often are not consolidated.
The way subsea verification is managed is very different from the classification process, which assigns engineers and surveyors to carry out the review and survey functions as part of an integrated process. A centralized system tracks design, fabrication, and installation verification data, thereby streamlining the process and allowing easy data retrieval in a consistent way that saves time and money and promotes safety.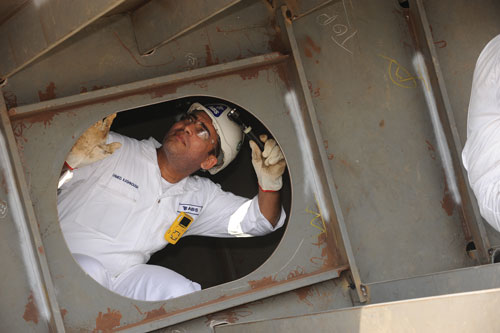 It could be worthwhile to evaluate what can be learned from vessel classification and how those lessons can be applied to the subsea sector.
Classification societies develop rules and guidelines based on knowledge, experience, and industry input. The rules and guides form a foundation for developing thorough processes that can be followed consistently to carry out asset reviews to verify safety. Guidelines and rules are used to develop a complete list of engineering activities that need to be followed to achieve compliance. This roadmap provides a compilation of major engineering activities that need to be reviewed by the operator and contracting firms before being presented for CVA review.
Having a roadmap and following it increase the likelihood of keeping the project schedule and can improve overall project safety, which helps reduce project cost.
Subsea systems are expected to deliver exceptional operational reliability, but the way the subsea industry uses third-party inspectors might not support the desired outcome. Leveraging established classification societies' processes for hiring and training surveyors or inspectors could deliver significant benefits. It also could be advantageous to have access to an established global network of surveyors and inspectors. Additionally, if it is possible to standardize design/fabrication and installation under a common set of rules like those classification societies have used for vessels, inspection also will become more standardized.
Subsea applications
There might be a question of whether applying classification principles to the subsea industry produces any tangible improvement. In fact, doing so delivers several significant benefits, including:
Consistent application of related rules and guidelines
Qualified personnel to carry out design review and surveys
Robust and reliable recordkeeping systems
Cost savings through the employment of a global network of surveyors and inspectors.
While establishing classification requirements for subsea equipment is not imperative, following a systematic method that parallels vessel classification could produce guidelines that establish a similarly uniform approach to design and fabrication that is safe, productive, and efficient for the offshore industry.