High-specification flexibles are increasingly favored
Andrew Carruth
ContiTech Oil & Marine Corp.
With the downturn in the oil and gas market and a desire to reduce capex by operators, there has been a growing interest in light well intervention. Additionally, with a growing number of companies investing in light well intervention systems for rentals, it is projected that there will be an increase in the use of such systems.
In truth, even with higher oil prices, the use of these systems will likely increase as the industry begins to reconcile the increasing number of older wells that are declining in production with fewer drilling rigs in the market for intervention work.
Historically, light well intervention systems have used Polyamide (PA) lined flexible sections of liner to compensate for vessel motions and equipment placement subsea. As these systems see greater deployment times in the future, the liner used for the flexibles should come under greater scrutiny.
While PA liners are acceptable for limited usage with some chemicals, over the long run they will degrade leading to replacement or failure of a flexible. In an effort to support such applications Continental/ContiTech has worked to bring a highly chemical resistant liner material, TauroFlon, to the market.
In the past, such highly chemical resistant liners have only been available from manufacturers of unbonded flexible pipes, which can carry significant lead times as well as cost. By overcoming the difficulties of bonding a Polyvinylidene flouride (PVDF) liner to the rubberized carcass of a bonded flexible, Continental/ContiTech is now able to provide high performance liner flexible products to the market.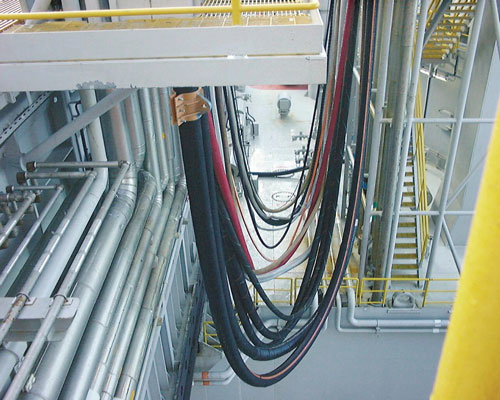 The well test production hose is lined with TauroFlon. (All images courtesy ContiTech Oil & Marine Corp.)
As the use of light intervention systems increases, having a robust design will be of critical importance to maximize system up time and reduce the operating costs for both the service provider and the operators using the systems. Currently there are a number of flexible lines being used in the industry, all of which are PA lined, and none of which are API certified.
This presents two issues for the industry. The first issue represents a significant waste in cost and material as often the flexible jumpers are only used for a single campaign. Discarded due to reliability concerns of the flexible during multiple deployment, this one-time use results in high costs borne by the operator that is renting the light well intervention system.
Additionally, it leads to high recurring cost to the system owners. By using higher specification liners such as a TauroFlon PVDF liner, the line can be used for multiple deployments not only allowing for a cost saving to be passed on to operators, but also increasing margins for system owners as well.
The second concern is that the flexible currently being used by many of the light well intervention systems is not certified by API, or any other oilfield related standard. It is an added advantage that the suppliers of PVDF lined flexibles has the ability and licensing to build and monogram these lines to API 16C standards. This is currently not an issue as no regulatory body has to this date placed any restrictions or guidance on the light well intervention system flexibles. In continuing with industry trends and movements in regulation, the growing popularity of light well intervention will increase the risk that regulatory bodies will mandate the requirement of properly tested, qualified, and manufactured flexible. It is not a question of "if," but "when" the flexible lines used in light well intervention systems are subject to either codification by API or ISO, or to regulatory guidance. This is a scenario that has been well played out previously as new technologies and methods become more mainstream.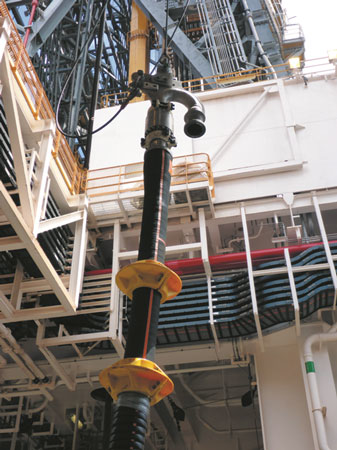 A MPD mud return line being connected offshore.
The ability of PVDF liners to resist chemicals at higher concentrations and temperatures than a PA lined flexible is a potential game changer for light well intervention. Qualification work that has been done on the new PVDF to verify its fitness for purpose in the oilfield environment shows a significant increase in capability over the previously available PA lined flexibles. With a PVDF liner, high acid concentration (acids, such as hydrochloric acid up to 37% concentration) may be used at temperatures up to 266°F (130°C) for unlimited duration. Across a spectrum of common oilfield chemicals, and in particular the acids, PA materials are limited to 75°F (24°C) for unlimited application, and up to 122°F (50°C) for limited service with some manufacturers not recommending PA liners for use with acids at any temperature or concentration. By using PVDF lined flexible these acids can be employed during intervention activities without concern for the integrity of the flexible line, or the potential lifetime of the line.
Water, in particular, is of concern with a PA lined flexible due to the hydrolysis of the liner, which can lead to cracking of the liner and subsequent leakage. The hydrolysis of the PA liner is complex and highly dependent upon the Ph of the fluid that is in the flexible, therefore careful consideration must be made as to the operating conditions of a PA lined flexible. Some flexible pipe manufacturers recommend only limited use of PA when exposed to water, and recommend contacting them for detailed review of the application. In situations where there may be some uncertainty in the properties of fluids that may be flowed back, the use of a PVDF lined flexible will remove this uncertainty as these liners are fully compatible with water at temperatures up to 250°F (121°C).
There are also future considerations to be made for light well intervention, and a broadening of its capability beyond merely the injection of chemicals downhole. Some of the systems being designed today are taking into account the future possibility of taking returns from wells. This means that the flexibles in the intervention system will also need to be able to handle wellbore effluents such as crude oil, produced water, and hydrogen sulphide in addition to the chemicals that have already been pumped downhole. By using flexibles with a PVDF liner, the systems that are currently in design are future proofed for these applications. This is another area where using products that are already qualified, and built to recognized standards will prove to be advantageous to the owners of the systems.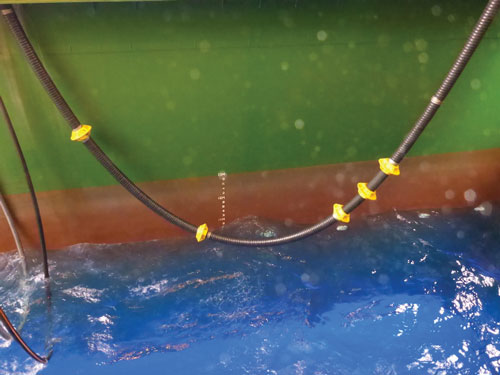 MPD mud return line hanging in the moonpool in the Gulf of Mexico.
There are examples of cases where underspecified flexibles have led to failures in the field when used in applications beyond their capabilities.
One example is in the field of offshore managed pressure drilling (MPD). The flexibles used in this scenario hang down in the moonpool of vessels where they are subject to loading from waves and currents. One notable feature of the MPD lines is that they need to be rated for gas service due to the potential for gas in the drilling returns. One flexible manufacturer did some testing with gas on an API 7K rotary hose and proclaimed it as suitable for MPD applications. Its suitability for usage was accepted by a drilling contractor, likely due to the significantly lower cost of 7K flexible when compared to API 17K or API 17J flexibles. The lines were subsequently used offshore and ultimately failed prematurely.
Interestingly, the failure was not related to gas, but due to a lack of overall robustness of the flexible in service in a moonpool environment. The truth is that even though the API 7K flexible was gas tested, it was the design methodology of the hose body itself that was the weak link. API 7K flexibles are designed only to withstand pressure loads, and ignore environmental loads, which can be quite high as seen in MPD applications. As a result, ABS and DNV will only certify API 17K and API 17J lines for MPD applications. In this case the drilling contractor lost time and money due to the application of a lower spec flexible and the failure was not one that had been anticipated.
The use of high specification flexibles in critical applications does have a slightly higher upfront capex associated with, but overall reduces costs due to the longer life of the flexibles. This approach of using high specification flexibles has already been employed by a number of offshore well testing service providers as well as drilling contractors who will only use PVDF lined flexibles in critical flow paths. This is a proactive approach that has not been taken by all of the industry, but should be considered. It will ultimately save not only service providers, but users of equipment time and money through the built-in durability of higher specification lines. It will also prevent potential regulatory pitfalls that could stall or delay a project. As with many things in life, an ounce of prevention is worth a pound of cure.