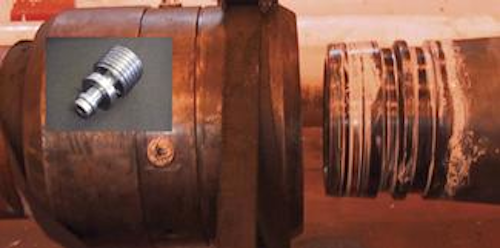 Skruvteknik delivered 180 Superbolts for a drilling rig working on Norsk Hydro's Troll project. The Superbolts, new in design because they are threaded on the outside, were created as locking mechanisms for the workover risers.
Once these are in place, the drilling rig can move to a new location with nearly all the risers still deployed in the water. Instead of pulling up all the risers to move from wellhead to wellhead, said Tony Felldin of Skruvteknik, only two or three risers on each column need be pulled out of the water, lifting the riser columns by 20-30 m from the seabed. The result is hours of time saved in pulling the risers up and hours saved in redeploying them. This is a first, Felldin said, because drilling rigs have not historically been moved with risers still deployed.
The order was for a secure connection on the riser adaptors from Kværner Oilfield Products. According to the company, the most important aspect of this joint is Superbolt's built-in locking function.
Skruvteknik had been working on and testing the new design since last November and received the order from Norsk Hydro in March.
null
The construction is a multi-jackbolt design for friction generation in the joints between the adaptor sections of workover risers. By distributing the clamping force between several independent jackbolts in which each generates friction and clamping force, the design increases resistance to strain, vibrations, and loads of all kinds.
Superbolt technology is based on a simple concept: the tensioners are designed as direct replacement for hex nuts. These devices can be threaded onto a new or existing bolt, stud, threaded rod, or shaft. The main thread serves to position the tensioner on the bolt or stud against the hardened washer and the load-bearing surface. Once positioned, simply using hand tools to apply torque to the jackbolts around the main thread will tension the bolt or stud.
The company has applied for a patent on the design, Felldin said, and is considering other applications of the new design.
For more information, contact Tony Felldin, Skruvteknik. Tel: +46 300 56 48 80, fax: +46 300 755 60, info@skruvteknik.com, www: skruvteknik.com.