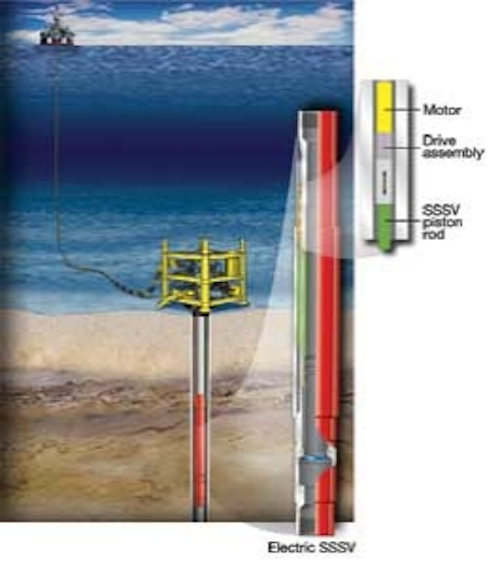 Eldon Ball • Houston
For those of you who may have missed it, this year's Offshore Technology Conference in Houston grew 8% over last year in attendance to a total of 78,150. With WTI oil in the range $100/bbl and Brent crude near $117, the industry was in an upbeat mood. OTC is never short of announcements of new technology and business deals, and this year, buoyed by oil prices, was no exception. Some of the more notable…Statoil expects to award a contract for construction of a new category of drilling rig during 3Q 2011. The semisubmersible design, called Cat D, targets drilling in mid-depth waters and meets the realities of the Norwegian continental shelf. Capable of drilling to 8,500 m (27,887 ft) in 1,300 m (4,265 ft) of water, the rig will target mature fields off Norway and aspires to a 20% greater efficiency than rigs now in use…Cameron and Halliburton announced the second generation Cameron DC all-electric subsea production system in association with the first-ever electric subsurface safety valve from Halliburton. The new system uses fiber-optic cables that increases the data transmission rate, doubles the available functions from 16 to 32, features simplified architecture and improved functionality…The Halliburton all-electric subsurface safety valve has the electric actuator and controller within the valve and features redundant, independent actuation plus a mechanical fail-safe, said the company. The new valve is based on Halliburton's magnetic and deepwater safety valve technology.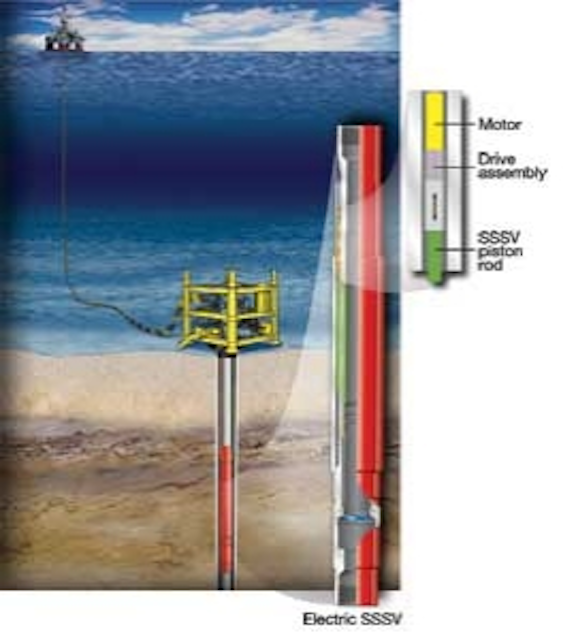 Halliburton's all-electric subsurface safety valve has the electric actuator and controller within the valve and features redundant, independent actuation plus a mechanical fail-safe.
Baker Hughes introduced the next generation of its JewelSuite reservoir modeling software, an integrated reservoir modeling tool that uses patented 3D gridding technology to build reservoir models for fields with complex geology…Ulstein Sea of Solutions and NLI introduced a new derrick system that they say includes the drill floor and substructure and can be transported, delivered, and installed as a turnkey unit. Pipes, cables, and elevator are all run inside the derrick legs, which they say allows for a sheltered environment, reduced maintenance costs, increased safety, and can be upgraded for Arctic operations…Emerson Process Management launched the Roxar Downhole Wireless PT Sensor System – Annulus B, which they say will measure online and in real-time previously inaccessible pressure and temperature information behind the casing in subsea production wells, providing operators with an important tool for well integrity monitoring…ABS released its enhanced Guide for the Classification of Drilling Systems. The new version covers requirements for systems, subsystems, equipment, and components from the wellhead to the top of the derrick, says ABS.
New rig orders
Orders for new offshore rigs continue. Vantage Drilling has contracted Daewoo Shipbuilding and Marine Engineering (DSME) to build an ultra-deepwater drillship (Tungsten Explorer). The fixed-price turnkey contract calls for delivery by May 31, 2013. The cost, including project management, commissioning, spares, pre-delivery crew costs, and inventory, is estimated at $580-590 million. There is also a fixed-price option for the purchase of an additional drillship.
Tungsten Explorer will be built in Okpo, South Korea, and will be capable of operating in water depths up to 12,000 ft (3,657 m), with a TVD capacity of 40,000 ft (12,192 m). The hull will have a variable deck load of 20,000 tons (18,143 metric tons) and will be 781 ft (238 m) long and 137 ft (41.7 m) wide. Equipment will include a DP-3 dynamic positioning system, a 1,250-ton (1,134-metric ton) hook load drilling package, a 9,000 hp drawworks, and offline pipe handling and a trip saver system. The vessel will accommodate 200 personnel.
Meanwhile, Qatar-based Gulf Drilling (GDI) has two KFELS B Class Bigfoot jackups valued at $393 million from Keppel FELS. The rigs are to be delivered in 3Q 2013 and 3Q 2014. They represent GDI's first new orders in six years, and will expand the company's jackup fleet to seven rigs.
The rigs will be designed to operate in the higher ambient temperature of the Middle East. The KFELS B Class Bigfoot is equipped with larger spud cans for reduced bearing pressure and provides expanded operational coverage, especially in areas of soft soil. GDI's rigs will also feature a more robust leg design. Each will have a full 15,000-psi (1,034-bar) BOP system, a 75-ft (22.8-m) cantilever outreach, and accommodation for 150 personnel.
Baker Hughes gets ONGC contract
Oil and Natural Gas Corp. of India has awarded Baker Hughes a five-year contract to provide drilling and evaluation services and to manage third-party services for thePlatinum Explorer drillship.
Baker Hughes will supply directional drilling, measurement-while-drilling, logging-while-drilling, surface logging services, drilling fluids, liner hangers, cementing, and coring services. Also, Baker Hughes will manage third-party services for air and sea logistics, the onshore base, and wellheads.
Vantage Drilling'sPlatinum Explorer drillship is capable of drilling high-pressure, high- temperature wells in water depths to 10,000 ft (3,048 m). ONGC contributes about 75% of India's oil production and 54% of the country's gas production.
New casing bit
Varel International has introduced a new casing drill bit product line developed jointly with Downhole Products (DHP), a Varel International Energy Services company.
The CaseBit product line addresses the need for an advanced cutting tool for drilling with casing (DWC) operations.
The approach combines key polycrystalline diamond compact (PDC) drill bit technologies, including force balancing, spiral and asymmetric blades, cutting structure wear modeling and computational fluid analysis, with highly flexible manufacturing and casting technology. The result, the company says, is an optimized, custom casing bit capable of drilling performance that exceeds competitive bits.
"We believe we have created a decisive solution for DWC operations," says Mike Thigpen, director of PDC Technology for Varel International. "The unique matrix blend of the CaseBit body yields improved erosion resistance when compared to aluminum products currently in the marketplace."
For continued deepening of the well, the bit is also designed to be readily drilled through by a smaller diameter PDC bit once the casing has been set and cemented in place.
More Offshore Issue Articles
Offshore Articles Archives
View Oil and Gas Articles on PennEnergy.com