New high-torque bucking unit increases rig efficiency
In their ongoing drive to optimize operational efficiencies and meet the highest standards in hazard mitigation, offshore E&P operators continually search for new technological innovations across the well construction spectrum.
Jun 8th, 2016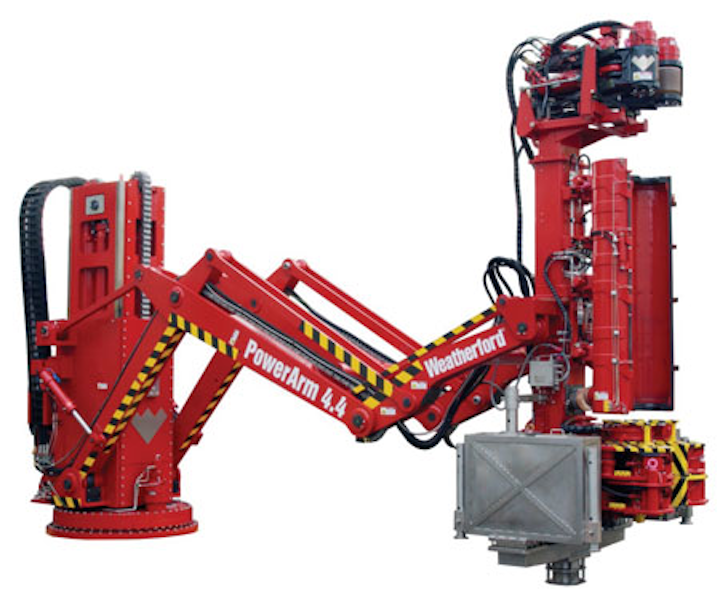 Hands-free pipe-handling technology debuts in GoM
Markus Hulke
Braylon Hurd
Weatherford
In their ongoing drive to optimize operational efficiencies and meet the highest standards in hazard mitigation, offshore E&P operators continually search for new technological innovations across the well construction spectrum. Technologies that mechanize on-deck pipe handling represent a prime opportunity to reduce rig time and costs and minimize the number of people during pipe makeups and breakouts.
An effective strategy for reducing rig time and improving safety in deepwater drilling centers on the running of drillpipe doubles and triples to minimize the number of online connections required. The latest generation of drill floors includes auxiliary make-up stations and racking systems for offline pipe handling and preparation, but many operators must still rely on onshore bucking facilities for building double/triple stands of drillpipe and casing. Delivering these doubles and triples to the offshore platform not only increases the risks of logistical bottlenecks and drilling delays, but it also exposes pipe handling hazards on space-constrained decks.
Safety and efficiency
To minimize these economic and health, safety and environment (HSE) restrictions, a major operator in thedeepwater Gulf of Mexico requested a customized make/break solution for its TLP drilling and production installation. Such a solution would ideally improve efficiencies, reduce costs, and enhance safety by minimizing manual handling over the planned 40-year productive life of the development.
The limited deck space and single-activity derrick on the TLP posed major challenges to the development program. On single-activity derricks, drilling and casing-running activity effectively shuts down any time the crane has to stop due to extreme weather or helicopter landings and takeoffs, which introduces significant flat time to rig operations. Combined with the limited deck space, the setup elevated the already substantial safety risks and inefficiencies inherent in manual drillpipe, casing, and tubing handling.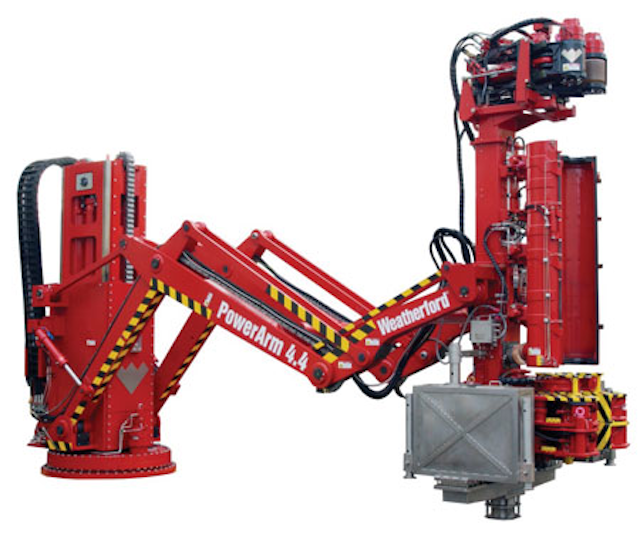 The primary pedestal-mounted tong positioning device provides 13 ft of vertical lift and horizontal travel.
Because the TLP's drilling program would target highly depleted reservoirs, the new make/break solution had to ensure rapid running speeds to minimize time in open hole. Prolonged open hole exposure increases the risk of differential sticking, particularly in extended-reach intervals, and results in an inability to control the exact height of the drillpipe connection make/break. Owing to its previous experience with stuck pipe in challenging wellbores, the operator required pipe-handling equipment that allowed for drillpipe make/break connections 13.1 ft (4 m) above the rig floor.
To meet these objectives, Weatherford collaborated with the operator and drilling contractor to develop a new pipe-handling technology designed to ensure a healthy balance between operational efficiency and safety. The client's requirement for a hands-free system required a near-wholly mechanized approach that would represent the industry's first rig-based make-up/break-out solution for tubular doubles and triples.
Open-head bucking unit
A newly engineered open-head bucking unit serves as the foundation of the hands-free pipe handling system. Customized specifically for the on-deck makeup and breakout of double- and triple-joint stands, the system prepares and feeds doubles and triples to the rig floor at a rate equal to transferring singles for running in the hole. The ability to quickly run, rather than rack, doubles and triples increases rig efficiency and streamlines the logistics of pipe delivery from shore. The system's ability to side-load through an open throat further optimizes the available deck space.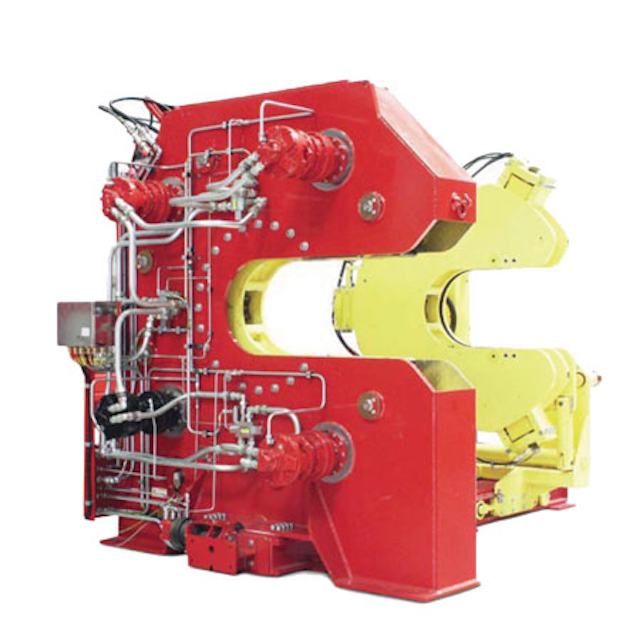 The side-loading capability of the customized open-head bucking machine allows for the on-board processing of drillpipe/casing triples and doubles. (All images courtesy Weatherford)
The hydraulically powered bucking unit handles fully rotational, high-torque operations up to 160,000 ft-lb (216,931 N∙m), and seamlessly transitions between makeup and breakout modes. It prepares extended-length tubulars of all API and premium-thread connections, and tubular doubles and triples with diameters ranging from 4½ to 22 in. (114 to 559 mm).
The system is managed electronically from a dedicated control cabin, which avoids manual tubular handling and reduces the number of rig personnel in potentially hazardous areas. The bucking system requires only intermittent crane lifts for preparing doubles and triples, thereby minimizing flat time while enhancing health and safety during heavy weather conditions.
Improving tong positioning
Further operational efficiencies are afforded through a pedestal-mounted tong positioning system. Specially engineered to provide 13 ft of vertical and horizontal travel, the hydro-mechanical positioning device moves the iron roughneck and bespoke mud bucket to the well center and then back into parking position. The positioning system is designed to function without suspension lines, which addresses the operator's directive to lower the risks of dropped objects.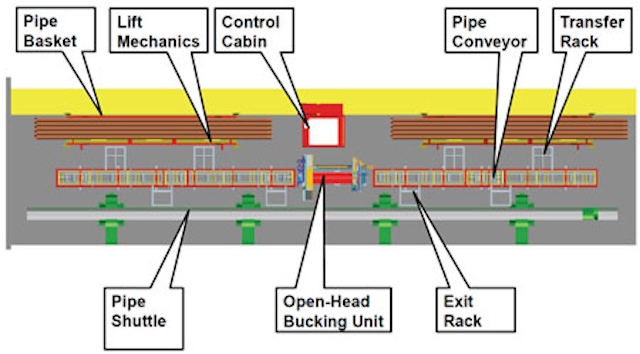 Key components of the hands-free pipe transfer system, including a third-party pipe shuttle.
Controlled with a joystick or via a programmed/saved motion, the positioning device enables side-to-side rotation and lifting of the tong to prescribed vertical or horizontal dimensions. The device affords stable drillpipe connections at a record height above the rotary table, while accounting for TLP movement.
As part of the redundancies engineered during the development phase, the pedestal-mounted positioning system includes a modular, fully fitted, track-mounted positioning device with a supplementary iron roughneck. The track-mounted tong positioning system also helps reduce rig time by allowing the concurrent rig-up and rig-down of tongs offline during the running of the production riser, casing, and tubing. The system's casing and tubing tongs can quickly be moved to a standby location, allowing the rig crew to immediately begin drillpipe and landing-string operations.
Streamlining pipe transfer
The open-head bucking unit is installed on a cantilevered pipe deck located off the rig floor. The pipe deck meets client-defined HSE criteria, including eliminating the potential for dropped objects, enabling remote and/or hands-free operation of equipment and full product integration into the rig's zone management system.
The bucking unit is married to a mechanized pipe conveyance system, designed to move single-joint tubulars from specially designed pipe baskets to the pipe bridge for bucking into double or triple stands.
During a typical bucking operation, the electronically controlled lift mechanism mounted on the pipe bridge pushes and lowers single stands of pipe to a transfer table. The transfer table then removes a single pipe from the basket and places it in the pipe queue.
A conveyor table comprising mechanized V-rollers for axial movement and R-rollers for rotation moves pipes vertically to the bucking unit center and axially into the machine. Once the first joint is clamped, the next joint is stabbed in and clamped by the rotating head of the bucking machine. The V-rollers and R-rollers change position before the connection is made, with the double or triple lowered to interface with the kick-out placed on exit racks for positioning. The remotely operated package is seamlessly reversed for breakout during tripping operations, with singles passing through the handling components and directly to the pipe shuttle.
Conclusions
The development of the industry's first open-head, full rotating and high-torque bucking unit promises new levels of rig floor efficiency and safety. By enabling the rig-based makeup and delivery of tubular doubles and triples at the same rate as singles, the customized system provides a sustainable solution to reduce rig running times and costs.
This development initiative also highlights the inherent value of close collaboration between operator, drilling contractor, and equipment provider to deliver creative solutions that provide safer, more efficient, and more cost-effective rig floor operations.