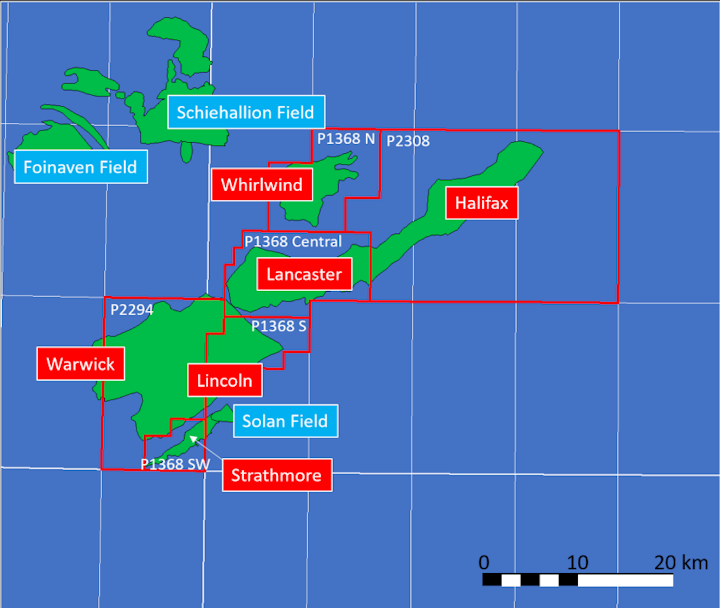 (Courtesy Hurricane Energy)
Offshore staff
GODALMING, UK – Hurricane Energy has confirmed a further basement oil discovery in UK waters.
The semisubmersible Transocean Leader spudded well 204/30b-4 (Warwick West) in late September, to a TD of 1,879 m (6,165 ft) TVDSS. The well intersected a 931-m (3,054-ft) horizontal section of fractured basement reservoir and flowed for a total of 85 hours at variable rates, under natural flow or supported by an electric submersible pump, while operations continued to clean the well and to assess reservoir performance.
After an extended pressure build-up period, a final flow period under controlled natural flow conditions delivered a stable rate of 1,300 b/d.
During this period water production was less than 0.5%. 
Initial analysis of oil samples indicates a light, mobile 43° API oil. Hurricane plans further studies of PVT fluid samples including a comparison of the geochemical signature of oil from Warwick West with oils from the earlier Warwick Deep and Lincoln Crestal.
This was the last of this year's three wells in the Greater Warwick Area. The Transocean Leader will P&A the well before demobilizing. 
Following these latest results, Hurricane and partner Spirit Energy aim to determine whether the GWA is in fact a single accumulation.
12/04/2019