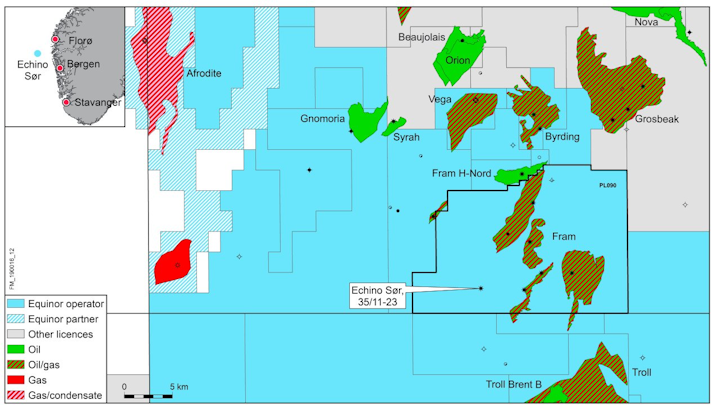 (Courtesy Equinor)
Offshore staff
STAVANGER, Norway – Equinor has made one of this year's largest oil and gas discoveries offshore Norway, close to the Fram field in the northern Norwegian North Sea.
The 35/11-23 well on the Echino South prospect, drilled by the semisubmersible Deepsea Atlantic in 350 m (1,148 ft) of water, appears to have proven recoverable resources of 38-100 MMboe.
Other partners in the surrounding license, 090, are ExxonMobil, Idemitsu, and Neptune Energy.
"This demonstrates the opportunities that still exist for value creation and revenue from this industry," said Nick Ashton, Equinor's senior vice president for exploration in Norway and the UK.
Echino South will probably be tied back to existing infrastructure. Further knowledge of the area and new data investments have increased our confidence in the exploration opportunities in this part of the northern North Sea.
"After more than 50 years of geological surveys on the NCS, we are still learning something new and finding hydrocarbons where we previously thought there were none," Ashton added.
"By utilizing existing infrastructure, these resources may be recovered at good profitability and with low CO2 intensity."
The well, drilled 3.2 km (1.99 mi) southwest of Fram, encountered hydrocarbons in the upper Jurassic reservoir of the Oxfordian age (Sognefjord formation) and rocks of the middle Jurassic period (Brent group).
A side track (well 35/11-23 A) is currently in progress in order to delineate the discovery in the Sognefjord formation.
On completion of the program, the Deepsea Atlantic will drill production wells for Equinor on the Askeladd North field in PL064.
11/06/2019