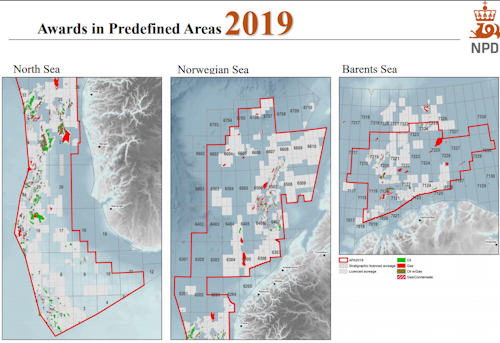 (Map courtesy Norwegian Petroleum Directorate)
Offshore staff
OSLO, Norway – Thirty-three oil companies submitted applications for Norway's Awards in Predefined Areas (APA) 2019, according to the Norwegian Ministry of Petroleum and Energy.
The APA process is staged annually over mature or known areas on the Norwegian continental shelf. It includes large parts of all available exploration acreage.
According to the Ministry, this year's response was in line with applications for the previous APA rounds.
Minister Kjell Børge Freiberg said: "Predictable and stable framework-conditions and an active licensing policy are two of the main pillars in the government's petroleum policy. We have continued to expand the APA-area considerably based on professional advice."
This year the predefined area was enlarged in both the Norwegian Sea and the Barents Sea.
The Norwegian Petroleum Directorate said that while interest in the Norwegian Sea and the Barents Sea remained steady, there had been a slight drop-off in applications for North Sea acreage, partly because of the high volume of awards in this region during the previous two years.
Awards should follow in early 2020.
Norway's Petroleum Safety Authority has approved Equinor's request to drill the Echino Sør prospect in block 35/11 in the North Sea, but it turned down the plan for a possible side track.
This followed the Norwegian Environment Agency's decision last month to reject the side track proposal for well 35/11-23.
Odfjell Drilling's semisubmersible Deepsea Atlantic should begin the program this month. Drilling could last up to 39 days in the event of the discovery.
The location is around 20 km (12.4 mi) north of the Troll field in 352 m (1,155 ft) of water.
09/09/2019