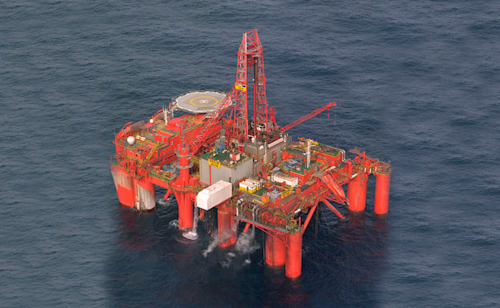 (Courtesy Dolphin Drilling)
Offshore staff
LONDON – i3 Energy has made an oil discovery on the Serenity prospect in the UK central North Sea.
Well 13/23c-10 was drilled down dip from the Repsol Sinopec-operated Tain discovery and encountered a sequence of Captain and Coracle sands with oil confirmed in the interval from 4,740 ft (1,445 m) to 5,252 ft (1,601 m) TVDSS.
The oil water contact is estimated to be at 5,270 ft (1,606 m) TVDSS based on pressure measurements, the same level as seen in the Blake and Liberator fields. The interval contained circa 339 ft (103 m) MD, 165 ft (50 m) TVD of sand in total, with oil in the uppermost Captain sand and in the Coracle sands at the base of the interval, and, if connected to the Tain field as i3 anticipates, represents a mapped oil column of approximately 622 ft (190 m) TVD in the Captain sand alone.
The net oil interval in the Captain sand was c.10 ft of high porosity (30%) sand and thicker than in the up-dip Tain discovery consistent with the company's expectation that the Captain sands thicken to the west in Serenity.
According to the company, reservoir quality is expected to be equivalent to that seen in the Tain wells, one of which (13/23b-5Z) tested at an estimated 2,750 b/d from a 5 ft (1.5 m) interval in the Captain sand. Oil samples to be recovered from the downhole sampling tool are expected to be of similar quality to the 32° API oil found in the Tain field.
The preliminary results, subject to further analysis, are closely in line with the company's expectations and confirm the strong commercial potential of the Serenity area, of which i3 owns 100%.
Additional pressure measurements and samples are in the process of being taken and the data recovered will be analyzed over the coming weeks to develop further appraisal and development options for the Serenity discovery.
After planned P&A of well 13/23c-10, the semisubmersible Borgland Dolphin will mobilize back to the Liberator field to drill a pilot hole at a future development well at the remapped L2 structural high.
The Liberator 13/23c-9 well findings have now been integrated with recently acquired seismic data, resulting in Liberator remapping as follows:
Phase I development area to target 63 MMbbl STOIIP via up to four wells with the company's revised expected recoverable reserves of 23 MMbbl
Phase II prospective area to target 396 MMbbl STOIIP through future exploration drilling.
10/29/2019