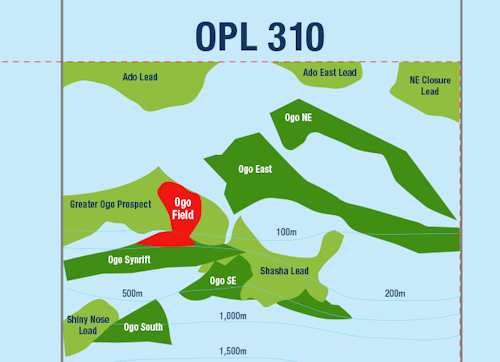 (Map courtesy Lekoil)
Offshore staff
LAGOS, Nigeria – Lekoil and partner Optimum Petroleum Development have reached resolution on block OPL 310 offshore Nigeria.
They have executed a legally binding agreement under which Optimum, as operator, will progress appraisal and development activities on the Ogo discovery.
Initially the partners plan to drill two wells during the next 12-18 months, subject to receiving an extension of the OPL 310 license from Nigeria's Ministry of Petroleum Resources; and securing funding for the drilling campaign.
Depending on results from the initial wells and planned extended well tests, two additional appraisal-development wells could follow.
All the wells will be designed to be compatible with an early production scheme.
If appraisal proves successful, the partners will undertake a full field development with an industry partner, and are hopeful the OPL will be converted to an OML (Offshore Mining Lease), extending the license duration by 20 years.
09/02/2019